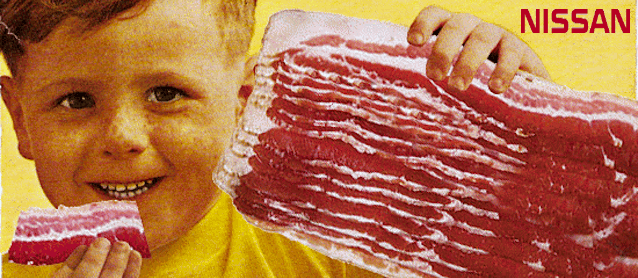 Last week, Nissan likened a new fabric that it's developing to fake baby skin – setting the blogosphere ablaze with morbid imagery and snarky comments.
The automaker, however, doesn't seem phased. In a recent interview with Vanity Fair magazine, Nissan reiterated the analogy and even took it to new levels of weird – boasting about an "artificial finger" and upholstering cars in bacon.
Vanity Fair writes:
A series of haunting headlines recently appeared in the automotive press, touting an effort by Nissan to create a futuristic material for its car interiors: a synthetic leather that feels just like human skin. … [S]o we immediately reached out to our friends at Nissan's North American headquarters to find out how, exactly, they're planning to farm Homo-sapiens hide. […]
"We set out to produce an interior material that would be better than anything used before," Brenda Parkin, Nissan's lead color designer told us. "Something as soft as a baby's cheek." This meant conducting scientific investigations with something called an "artificial finger," which measures tactile sensations and correlates them with perception of pleasure. The results? "Universally," Parkin told us, "what people gravitate to as pleasurable is something that mimics the sensation of touching human skin." So in order to best entice consumers, Parkin and her team will attempt to create materials that can approximate this feeling—the feeling of stroking an infant's face.
No doubt, Nissan's research is interesting. Anything that makes car interiors more comfortable is a good thing. But in its quest to distinguish itself from other automakers, the company is making some pretty weird choices – not so much in terms of technology, but PR.
Take, for instance, this quirky bit of information that Nissan's lead color designer volunteered:
When asked to reveal the strangest interior material they'd ever consider using, Brenda Parkin replied, "Bacon." "We throw around very wacky ideas all the time," she explained. "It's important to ask questions like: Why is bacon that different from leather? Plus, everything is better with bacon, right?"
Obviously, the comment was made in jest. But combined with previous statements about fake baby skin and artificial fingers, it's pretty unsettling. Nissan definitely needs to reexamine its PR campaign surrounding this new, human-leather-inspired material.
For more on Nissan, as well as what Bentley and Fisker think of such gimmicks, check out Vanity Fair's full article: "What Automakers Think About When Designing Car Interiors".