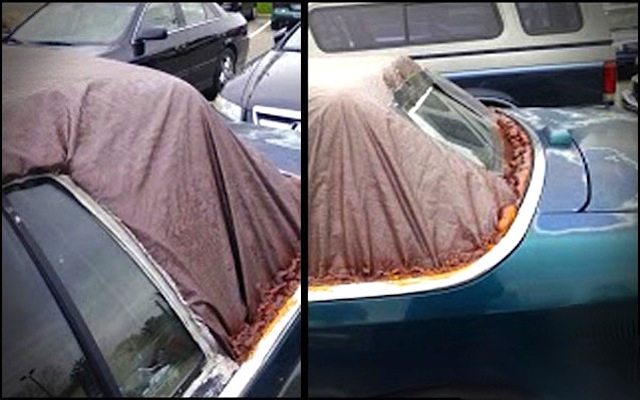 Convertible tops can be pricey to repair, which is why some car owners go to great lengths to avoid auto upholstery shops. Instead of having professionals return their cars to top shape, these folks choose the more humiliating DIY route.
We've seen drivers fix their convertible tops with wood, duct tape and even umbrellas. But this trash-bag drop top takes the cake.
The cameraman who spotted this work of art explains:
"I would have got a full picture of this fine LeBaron convertible but it's owner spied me examining its repair and came out. This thing covers all the bases for a white trash repair: Duct tape, Great Stuff Expanding Foam, TWO kinds of caulk – the clear and white kind. In addition to it's brown 'platique' top. There is actually a specific name the brown plastic but it's name eludes me at the current time."
Of course, the great irony in DIY hatchet jobs like this one is that the damage caused to other parts of the car due to a faulty repair ultimately ends up costing drivers more money in the long run than it would have been to just fix their cars correctly the first time around.
When customers like this do ultimately make it to your shop, be sure to install an Electron Top or Kee Auto Top. Not only do they sponsor The Hog Ring, helping keep this website up and running for the entire auto upholstery community, but they also manufacture quality tops.