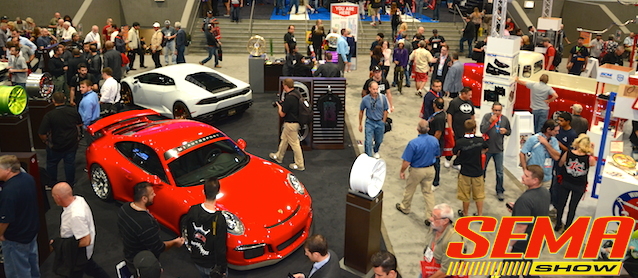 Day three of the 2014 SEMA Show was the best yet! We continue to be astounded by the number of amazing folks here – over 130,000 – doing exceptional work to grow and innovate the automotive aftermarket. Every sector of the industry is represented — including auto upholsterers, who are making a strong showing.
We kicked off our day with a sit down interview with acclaimed car builders Mike and Jim Ring of Ringbrothers! They were super gracious and took the time to answer all our questions about the interior in their latest creation, a jaw-dropping 1966 Chevrolet Chevelle dubbed "Recoil." They definitely had a lot of interesting things to say about our craft and their admiration for it, which we'll share with you in an upcoming article. They also put us in touch with Steve Pearson of Upholstery Unlimited, who designs and trims most of their interiors.
Afterwards, we met up with longtime THR community member Steve Ingram of Stitch'n by Steve to talk shop. He was kind enough to introduce us to Bryan Schmitt, owner of Mobile Solutions (booth # 10804), who we plan to collaborate with on future projects. A long overdue meet up with Brent Parker of Brent Parker Motor Trimming was next. He made it out all the way from Australia, so there was no way we were leaving without saying hello. Seeing so many exceptional trimmers under one roof was definitely the highlight of our trip!
Following a quick bite, we set out to network some more and check out all the new products on offer, many of which we'll highlight in the coming weeks!
Of course, no trip to SEMA would be complete without dropping by Alea Leather's booth (#12551) — who, in addition to sponsoring 39 cars, erected a jaw-dropping display of the highest quality and most unique seat covers around. Reverse embossing, 3D diamond pleats, hexagon patterns, hourglass stitching, French seam piping — there's nothing they can't or don't do! Check out our Instagram account for photos!
We capped the day with a visit to The Seat Shop's booth (#12767), where we chatted with Matt Verhalen and Justin Horsley about their fantastic line of replacement seat foam and covers for trucks and SUVs. They're definitely one company you should check out!
To keep up with The Hog Ring on the convention floor, follow us on Instagram @TheHogRing.