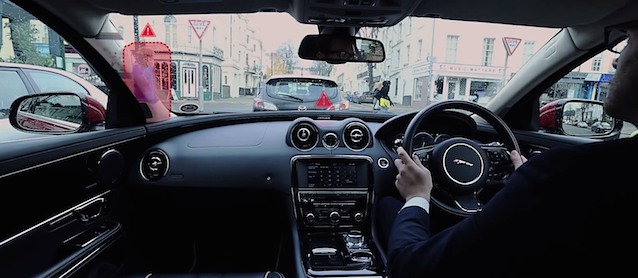 Speaking of transparent car interiors, check out the new Jaguar/Land Rover 360° Urban Windscreen — which, through a clever use of exterior cameras and interior projectors, allows drivers to see right through every one of the vehicle's pillars, putting an end to blind spots.
As we reported in November 2012, Japanese researchers at Keio University in Tokyo pioneered this technology for use in automobiles, but Jaguar/Land Rover appears to be the first automaker adapting it for production.
In a press release issued this week, Jaguar/Land Rover explains:
A screen would be embedded in the surface of each pillar inside the car and would take a live video feed from cameras covering the angles outside the car usually obscured in the blind spots created by the A, B and C-pillars.
Pedestrians, cyclists and other vehicles would be visible all around the car – and by combining the transparent pillars with an advanced high quality Heads-Up display, the movement of other road users could be highlighted to the driver with an on-screen halo moving across the car's virtual windscreen.
When the driver indicates to change direction, when they move their head to look over their shoulder during an overtake maneuver, or as the vehicle approaches a junction, the system would automatically make the left or right-hand side pillars transparent. [read more]
The technology doesn't end there. The 360° Urban Windscreen also features a state-of-the-art navigation system that projects a transparent "ghost car" onto the windshield that a driver can follow instead of looking at a distractive navigation screen or trying to read road signs.
No doubt, this is the future of "smart" cars. Watch the video below to see how it works: