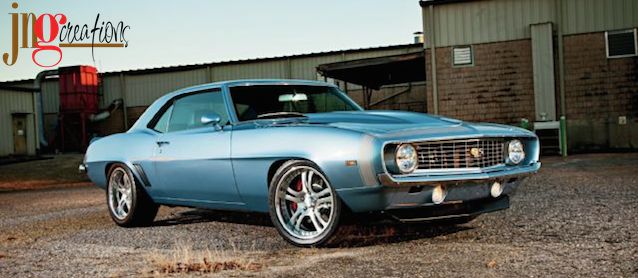 Pick up the March 2015 issue of Chevy High Performance magazine to see "Blue Angel," a 1969 Chevrolet Camaro SS upholstered by none other than Jean-Noël Greffeuille of JNG Creations in Pittsboro, North Carolina.
The Pro Touring-inspired '69 Camaro, decked out in its original Glacier Blue exterior paint and matching interior, is a beauty to behold — especially its handcrafted cabin. Here's what owner Donna Hilliard had to say:
The interior retains the car's classic vibe joined by a dose of modern essentials. Donna credits Jean-Noel Greffeuille of JNG Creations (Pittsboro, North Carolina) for the amazing work. "We told him our vision and he nailed it perfectly. From the suede headliner to the custom dashpad and the way he designed the door panels was incredible," said Donna. "The dark blue interior with contrasting light blue French seams in the thread is a work of art." The vinyl-covered Corbeau seats and Clayton Machine Works interior components complete the scene.
To read the full article, visit SuperChevy.com. Also, check out the shop profile of JNG Creations we published in December, as well as another jaw-dropping 1969 Camaro Jean-Noël trimmed last year.
[Photo by Chevy High Performance]