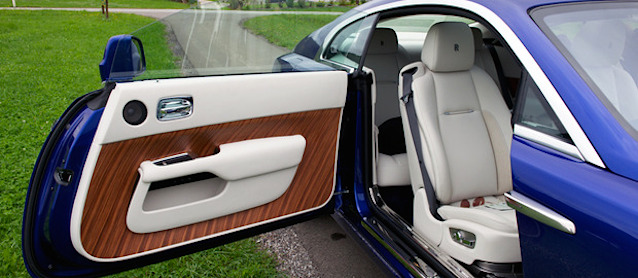 The New York Times recently published an interesting article about how the super rich shop for cars and why they, more than any other group, are concerned with their interiors.
If your auto upholstery shop caters (or hopes to cater) to wealthy customers, check it out — as it provides loads of insight that can be applied to the branding and marketing of your business.
Below is an excerpt from the article:
These days, just owning a Rolls-Royce or a Bentley is not enough. Now, buyers are looking for even more exclusivity, and automakers are more than happy to serve them, offering custom-tailored cars and limited-production "special edition" sedans — especially to lucrative overseas markets — as owners try to distinguish themselves among the 1 percent. […]
"Our customers expect personalized luxury in every element of their life," said Eric Shepherd, president of Rolls-Royce's North American operations. "They expect that uniqueness and individuality. So we're giving them the ability to have something that is theirs alone." […]
Rolls-Royce is hardly alone in pushing the limits of exclusivity. Other ultraluxury automakers are vying for top customers…finding ways to differentiate themselves and their vehicles in ways that give wealthy owners an experience that a Rockefeller or a Rothschild would have approved of.
Karl Brauer, an analyst with Kelley Blue Book, said the economy had experienced something of a "two-pronged recovery," with those at the top doing quite well while middle-income earners continue to struggle.
That has led to ultraluxury cars surging in popularity among well-to-do buyers.
"There are always plenty of wealthy people to go around," Mr. Brauer said, adding, "What makes you feel special is special treatment, and access. If you can possess something others in your social circle can't have, then that's what stands out."
The article ends with an intriguing quote from Shepard: "They don't look at us as transportation. They look at us as an extension of their lifestyle."
When you take this into consideration, it's easy to understand why rich folks are so willing to spend thousands of dollars for superfluous upgrades, like Alcantara trimmed air vents and rearview mirrors, or even an entire exterior wrapped in leather.
Sure, the wealthy appreciate quality craftsmanship. But what really matters to them is exclusivity. Make them feel as if they're buying something no one else has, and you can pretty much charge what you want. At least that's what the automakers are doing.
To read the full article, see "When an Off-the-Rack Rolls-Royce Just Won't Do."
What do you think? Is there something to this idea that wealthy people just want to feel special? Has your auto upholstery shop ever received an odd or superfluous request from a wealthy customer? Tell us about it in the comments section below.