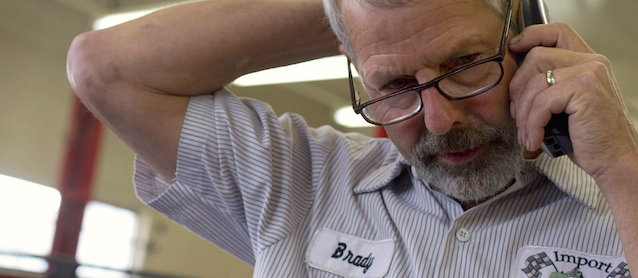 Marketing consultant Tom Smisek recently conducted an informal survey of automotive repair shops to gauge how professional they are over the phone. Based on what he learned, Tom wrote an article providing tips on how shops can improve their phone etiquette, and with it grow their businesses. It's a must-read for every shop owner and employee.
The article, which is published in the February 2016 issue of The Shop, starts with Tom divulging the results of his survey:
Recently I called over a dozen automotive businesses and was discouraged with how incoming calls were handled. I got: ring…ring…ring (no answer); "The mailbox that you called is full;" "State your name after the beep;" and "Google voice will connect you."
So I said, "Tom Smisek," and the response came back, "The Google recipient that you called is not available."
Many times when businesses did pick up, the call was answered "Hello" or "Yeah, this is Bob" or by an employee who did not know where the boss was and left me on hold forever. I left messages with some businesses, but I am not sure the party on the other end conveyed them.
This is no way to run a business. … The way your phone is answered is a reflection on your business. Do you present the image of a competent, well-run organization that will take care of your customers?
To help auto repair shops improve their phone skills, Tom outlines seven factors that can impact a caller's impression of a shop and what owners and employees can do to ensure that it's positive. These factors range from how many times a phone is allowed to ring before it's answered to what the voicemail message sounds like. The tips and advice he offers are valuable and worth implementing at every shop.
Tom ends the article with a simple test that he says shop owners should conduct in order to gauge how professional their employees are over the phone.
To read the full article, check out the February 2016 issue of The Shop, which you can read online by clicking here. Skip to page 42. Also check out our articles: "Get the Most Out of Phone Estimates" and "5 Tips for Turning Callers into Customers."