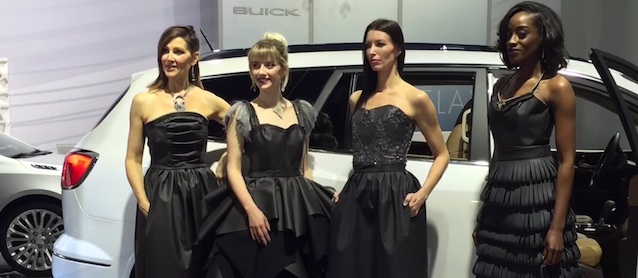 The love affair between automakers and fashion houses is long and storied. They often inspire each other's work, share designers and even manufacture products for one another. So it should come as no surprise to learn that the North American International Auto Show (NAIAS) in Detroit, Michigan, was briefly transformed into a fashion show on Saturday.
During the impromptu show, models strutted down the catwalk wearing four gowns manufactured from thermoplastic material sourced from Inteva Products LLC and used in General Motors vehicles.
The Associated Press reported:
Four models outfitted with formal dresses made from Inteva's Inteather material strutted up and down a carpeted area, passing by dumbfounded auto show attendees as well as the GMC Yukon and Sierra, both of which feature instrument panel exteriors made of Inteather, a thermoplastic olefin material.
Inteather has the appearance of traditional leather, but Inteva says it weighs less, lasts longer, and is recyclable. Inteva's Ken Gassman, who leads the team responsible for the commercial use of Inteather, was on hand to see the models in action. He says the designer, Ferndale-based Janna Coumoundouros, did a "phenomenal job" creating the gowns. [read more]
Take a look for yourself…
https://www.youtube.com/watch?v=aQ7b06PgbY0
Weird? Not really. Late last year Bugatti debuted its own line of car-themed clothes. And Chrysler famously partnered with clothing designer John Varvatos to trim a limited-edition 300. Seat manufacturer Lear Corporation once staged a fashion show where women wore dresses that matched seat covers. And, of course, we all know that Ford Motor Company has started tapping clothing designers to trim its car interiors.
These are just a few examples of the fashion industry's growing influence in the automotive world. For more, check out The Hog Ring's "Upholstery Meets Fashion" section.