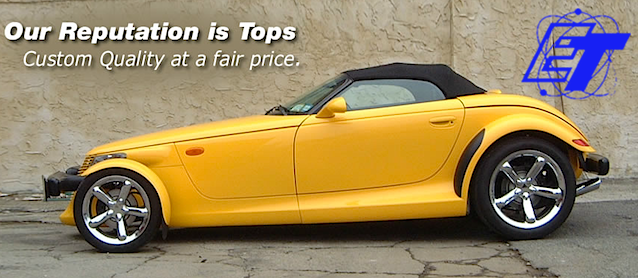 Electron Top recently sent a flurry of fliers to auto upholstery shops highlighting their latest sales, promotions and more. It's a must-see for all shops that install convertible tops and sell care products.
To begin with, Electron Top is liquidating its entire stock of Bestop replacement convertible tops for SUVs. As such, everything is on sale. After all the Bestop tops and related products are sold, Electron Top will no longer carry the brand. See the below flier for a full price list.
What's more, Electron Top has reduced its price on tinted-only glass windows for the following makes and models: 1995-2000 Chevrolet Cavalier, 1995-2000 Pontiac Sunfire and 1987-1995 Chrysler Lebaron.
That's not all, Electron Top carries a full line of convertible top car products from RaggTopp and IMAR. Shops that install convertible tops and glass or plastic windows should consider stocking these products to sell to customers.
To learn more about these great sales and promotions, check out the below fliers. The last one, titled "Support the Little Guys," is a particularly great read — as it reaffirms Electron Top's commitment to independent auto upholstery shops.
null
Also keep your eyes peeled for a copy of the U.S. constitution, which Electron Top is sending to all auto upholstery shops. With the 2016 presidential elections upon us, it behooves us all to familiarize ourselves with our rights.
As a third-generation, family-owned business, Electron Top cares about independent shops. In fact, they are one of the few convertible-top manufacturers left that refuses to sell directly to the public – limiting their market to ensure that our prices aren't affected.
To show your appreciation for Electron Top's loyalty, please consider giving them your business.
To learn more about Electron Top's quality convertible tops or to set up a business account, visit ElectronTop.com or call (800) 221-4476.