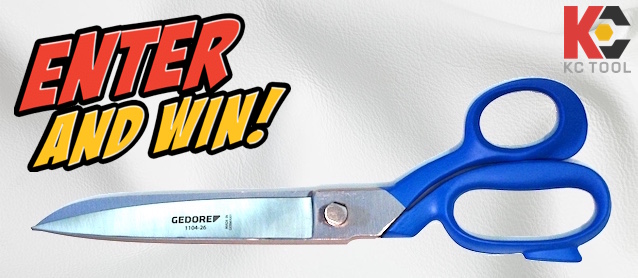 Our previous giveaway of Gedore Craftsman Scissors was such a massive hit that we're doing it again! Here's your chance to win one of the best upholstery shears on the market, courtesy of our favorite tool supplier KC Tool!
In February, KC Tool sent us a pair of 9″ Gedore Craftsman Scissors to test, and boy was I impressed! These German-manufactured shears feature high-quality steel, razor-sharp blades and a precision tip. Needless to say, they quickly became my favorite pair in the shop.
To read our full review of the Gedore Craftsman Scissors click here.
The winner of our previous giveaway was Tony Miller of Stitches Custom Auto Upholstery in Bremerton, Washington. Now it's your turn to win!
RULES: We want to see your shop sign! Snap a photo of your shop sign and upload it to Instagram or Facebook. Use the hashtags #TheHogRing and #KCTool so we see it. We'll pick one winner by the end of the day and send you the shears. It's that easy!
Special thanks to KC Tool, America's #1 German tool distributor, for sponsoring this awesome giveaway.
BUY THEM NOW: To purchase your own Gedore Craftsman Scissors, visit KCToolCo.com.