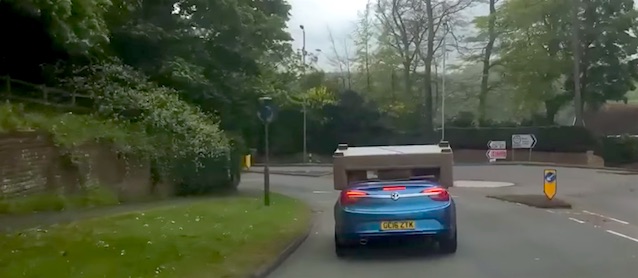 Who needs a pick up truck when you have… a convertible top?
A British man was recently spotted driving down the street with his top down and a full-size couch turned upside down and draped over the cabin.
The bizarre and dangerous stunt occurred in Temple Ewell, England, and was captured on another driver's dashboard camera.
The witness, who posted the film to social media, had this to say about the irresponsible driver: "Dashcam recording of lunatic driving a soft top cabriolet car in broad daylight with no police or highways responding. Despite passing cameras before driving on to Whitfield Hill. Driver laughing away whilst not able to see in any mirrors with no concern for others at all."
Take a look for yourself…
Apparently convertible top season brings out all the weirdos. Last week we published a story about a man carrying an umbrella while driving with the top down in the rain. What's wrong with people?