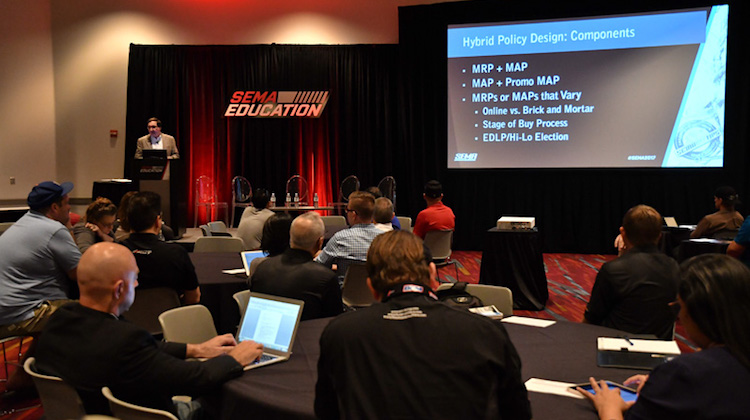 The 2017 SEMA Show was a huge success. And thanks to NC Carpet Binding & Equipment, which put our craft front and center, it propelled the auto upholstery industry forward. But it's up to us to keep the momentum going. You can help do exactly that by applying to host a seminar.
SEMA is now accepting applications from industry professionals who would like to host a seminar at the 2018 SEMA Show. They're particularly interested in seminars that focus on issues related to sales, customer service, business management, automotive trends and vehicle customization.
"The educational seminars make up an essential component of the SEMA Show," says SEMA. "In addition to connecting automotive manufacturers with professional buyers from all over the world, the four-day SEMA Show is the leading venue for industry experts to network in person and learn new business strategies."
Pitch a seminar idea that's auto upholstery focused, but still has a broad appeal. Here are three ideas you might consider:
Trends: From hexagons to dragon scales, customers want unique pleats
Builds: The importance of planning your car's interior from the start
Business: Internet sales are impacting our market. Here's how to adapt.
By hosting a seminar, leaders in our craft can share their knowledge, expertise and opinions with the greater aftermarket. It's a fantastic opportunity to draw attention to our craft and help guide its continued success.
The 2018 SEMA Show will be held October 29 – November 2 in Las Vegas, Nevada. Complete a seminar application by February 12 by clicking here.