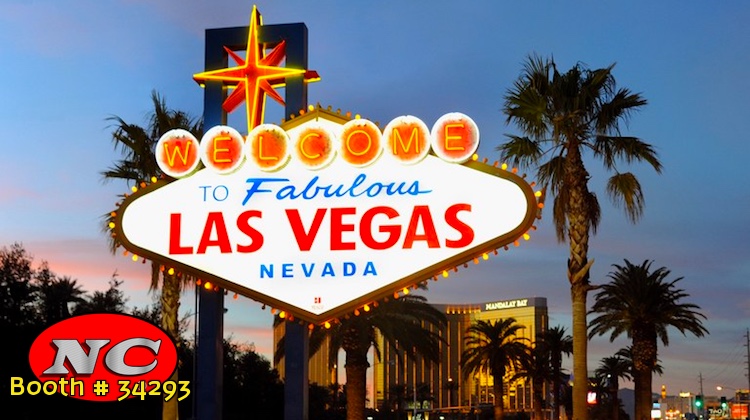 Welcome to the 2018 SEMA Show! If you're here with us in Las Vegas, stop by NC CARPET BINDING & EQUIPMENT's display (SOUTH UPPER HALL / BOOTH #34293) for some awesome – and necessary – industry fun!
CEO Mal Maher and his team brought their full range of industrial sewing machines to the show, SLASHED PRICES on all models and are offering some incredible incentives – including FREE SHIPPING, NO TAX and an unprecedented 5-YEAR LIMITED WARRANTY (the industry standard is 1 year).
Click here to see SPECIAL SHOW PRICING!
But these DEALS EXPIRE ON NOVEMBER 2, so take advantage while you still can! (Not at the show? Order your machine by phone or online to score the same deals!)
"Take advantage of these deals and elevate your workroom," said Maher. "After the show, prices go back to normal."
Come Talk Shop!
Some of the industry's TOP TRIMMERS will be hanging out at NC's booth throughout the week. Come say hello and talk shop!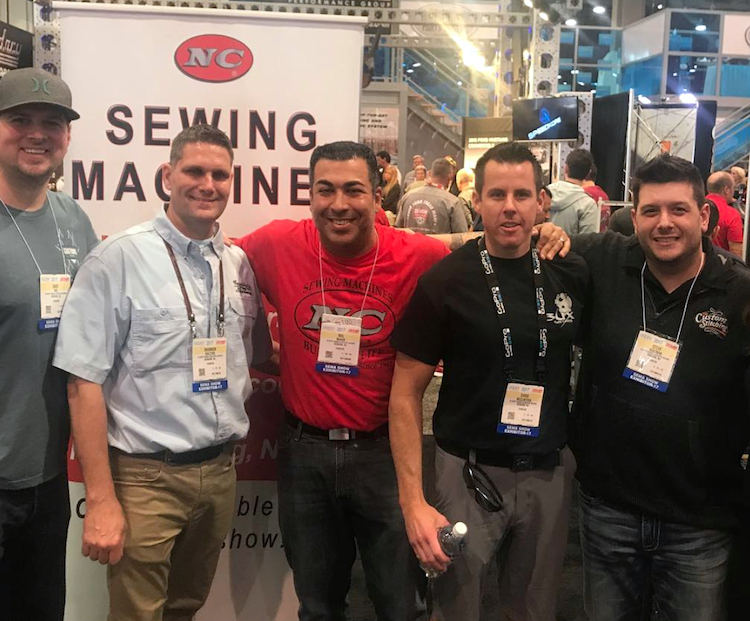 Among the shops represented will be:
"Learning from some of the best in the business is invaluable," said Maher. "Nobody wanted to leave the booth last year — not because of the machines, but because of the camaraderie."
"It was a great experience and it's my hope that more of you can share in it this year," he added.
Sewing Machine Giveaway!
It's not a show without a GIVEAWAY, right?
Anyone who bought an NC sewing machine at the 2017 or 2018 SEMA Show is automatically entered for a chance to win an all-new NC1 machine.
Basically, you get two QUALITY MACHINES for the price of one!
NC Interior of the Year Award!
NC will be awarding its first annual "NC Interior of the Year Award," voted on by the NC SEMA team, Douglass Interior Products, and The Hog Ring!
Not only will the winner take home an impressive TROPHY, but also a $2,500 GIFT CERTIFICATE to Douglass Interior Products, a SHOP PROFILE on The Hog Ring and, of course, BRAGGING RIGHTS!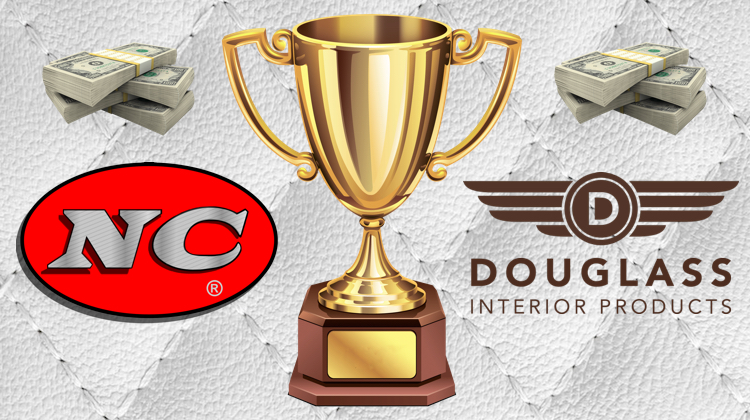 Douglass Interior Products is a premier supplier of automotive, marine and aviation upholstery. They carry everything from leather to synthetic vinyl and carpet!
The gift certificate, which can be put towards any of Douglass' quality products, is good for one full year. Use it to by materials for clients or your own project car.
"At Douglass, we are truly passionate about interiors," said Nick Roberts, director of marketing for Douglass.
"When we see the same level of care and thought that goes into producing our materials being used to create award-winning interiors, it helps us all to really appreciate the art form that is upholstery," he added.
"We feel that this great contest is a perfect way for us to reward one of those talented upholsterers and to see the new heights that this industry has reached."
Don't miss all the action!
The 2018 SEMA Show is taking place now, from October 29 to November 2, in Las Vegas, Nevada. For details, visit SEMAShow.com.
To learn more about NC Carpet Binding & Equipment and check out their high-quality sewing machines, visit N-CCarpet.com. Follow them on Instagram at @NC_Carpet_Binding.