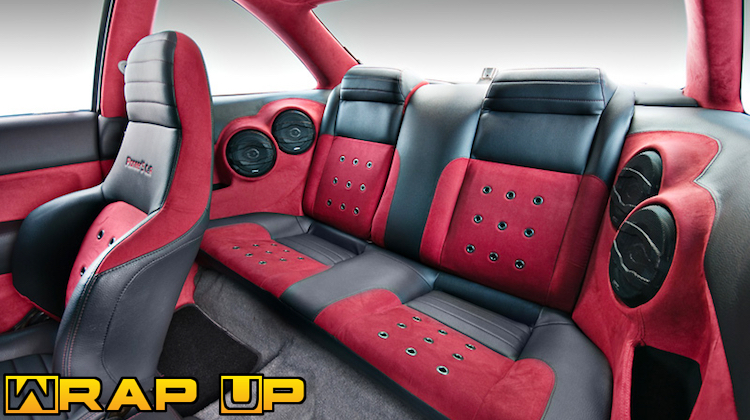 What a wild month! Not only did we attend SEMA and help announce the winner of "NC Auto Interior of the Year," but we also brought you the latest sales from our sponsors and industry news. Here's a look back at November 2018.
NC to Announce Winner of Interior Award
The winner of the "NC Auto Interior of the Year" award will be announced today at 2:30 pm at NC Carpet Binding & Equipment's SEMA booth.
DJ Designs Wins Interior of the Year Award
Congrats to DJ Designs for winning the "NC Auto Interior of the Year" award, sponsored by NC Carpet Binding & Equipment and Douglass Interior Products.
Trim Shop Sparks Outrage with Political Sign
Here's a good rule of thumb: Never talk politics with customers, unless you're willing to lose clientele over it.
Discover the Difference with Haartz Topping
It's not just our opinion that The Haartz Corporation manufactures the best convertible topping in the auto industry. Rigorous quality-assurance tests prove it.
Albright's Supply has a Sale on Marine Vinyl
If you do a lot of marine work, you're in luck! Albright's Supply is running a promotion on Anchor vinyl all month long.
We scoured the internet for the latest employment opportunities in the craft of auto upholstery and posted them on our jobs page.
Help Industry Families Hit by Wildfires
California is currently battling the deadliest and most destructive wildfire in the state's history. Here's how you can help.
Happy Thanksgiving from Electron Top
Check out the November 2018 issue of Electron Top's newsletter "Keep in Touch!" for a great sale and beautiful Thanksgiving prayer.
Mobile Tech Expo is only 50 Days Away!
The Mobile Tech Expo is fast approaching! Auto trimmers interested in launching a mobile leather and upholstery repair service should register right away.
Ford Files Patent to Kill 'New Car Smell'
If Ford Motor Company has its way, "new car smell" may become a thing of the past.
California Shop Offers Lesson in Hard Work
Every successful auto upholstery shop put in years of back-breaking hard work to get where they are today. No one knows that more than Mark and Lori Madonna of Artist Upholstery.
That's not all! Visit our Facebook, Twitter and Instagram pages to see what other trimmers are up to. You can also join in the latest industry discussions by registering for our Auto Upholstery Forum.