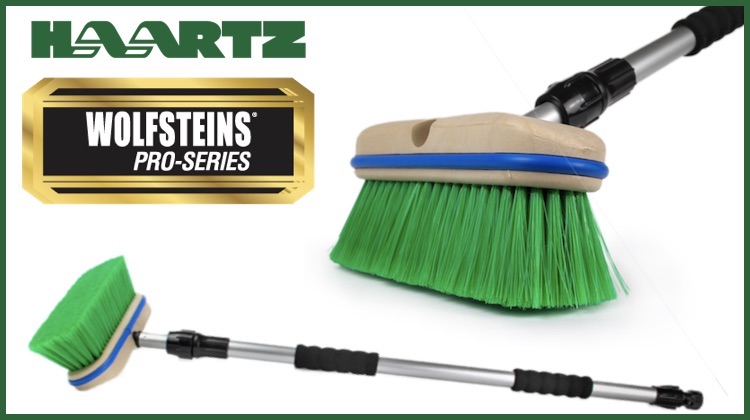 Searching for a last-minute holiday gift for the convertible car or Jeep owner in your life? Then check out Wolfsteins new, large convertible, soft top and tonneau cover telescopic brush.
The brush, which is endorsed by the Haartz Corporation, extends to clean convertible tops, Jeeps and tonneau covers with ease.
It features the same fibrillated Nylex bristles found on their best-selling Premium Convertible Top Brush, which is also endorsed by Haartz. However, this brush head is much larger, at 9 inches in length and 2.5 inches in bristle depth. And with the handle extending from 3 to 5 feet, there's nothing it can't reach.
To make cleaning even easier, the brush can be attached to any standard hose to allow water to flow through the bristles while cleaning. The bristles are soft, yet strong enough to gently loosen the dirt and debris from tops without damaging acrylic cloth or vinyl materials.
"The Premium Large Convertible, Soft Top and Tonneau Cover Cleaning Brush System with Premium Telescopic Pole was designed to make large jobs easy, including large convertible tops, tonneau covers, a lifted Jeep or Bronco, bimini tops, boat covers, and awnings," Wolfsteins says in its product description.
"With more open-air SUV models hitting the road, like the Jeep and the upcoming Bronco, there is a lot of demand for a brush that could handle taller vehicles with larger roofs," said Phil Hollenbeck, sales manager of automotive exteriors at Haartz. "In partnering with Wolfsteins we were able to quickly develop the telescopic brush. It's also well-suited for pick-up truck tonneau covers."
The brush can be purchased on the Wolfsteins website. While there, check out other Haartz-endorsed products, like their RaggTopp fabric and vinyl convertible top cleaners and tonneau cover cleaners and protectants.
Discount: Through December 31, use the code HAARTZ20 at checkout for a 20% off discount!
To learn more about Haartz, visit Haartz.com and follow them on Facebook, Twitter and Instagram.