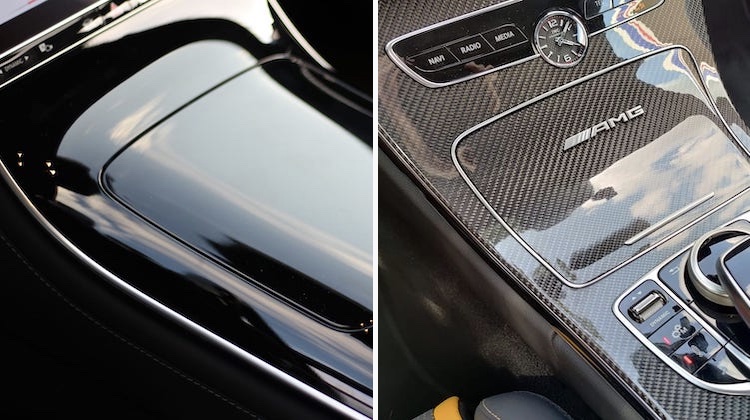 Zac Palmer, a writer for Autoblog, is sick and tired of piano black and carbon fiber trim — and thinks you should be too.
He recently published a rant calling out automakers for continuing to use these materials, which he described as a "scourge" on automotive interiors.
Palmer's main issue with piano black trim — that glossy plastic automakers use on dashboards, consoles and door panels — is that it smudges and scratches easily, leaving interiors looking worn.
"This shiny trim looks good in fancy press photos of new car interiors, but it stops looking good soon after the photoshoot is finished," he wrote. "Anyone who owns a car with piano black trim already knows what happens to it over time. First, it gets coated in dust and particles — this only takes a day or two. Next, and this part takes a few months to a year, it gets terribly scratched up and generally looks horrible. It may just be the least durable interior trim material ever invented, and now it's used on untold numbers of new cars."
As for carbon fiber trim, Palmer just thinks it's pointless and overdone. In fact, he described it as "played out."
"Any car with an inkling of performance seems to either be fitted with as standard (or offer as an option) carbon interior trim. I was once enamored with the idea of seeing carbon fiber in as many places as I can, but those days are long gone. Now, it just looks tired and cheap," he wrote.
"I still appreciate the use of carbon fiber for any exterior parts like the rear spoiler or side sills — full-carbon cars have their place, too — but its purpose is largely wasted on the interior. If the carbon trim were legitimately cutting real pounds off, then I'd be all for it. But for such limited use on the interior (strips on the dash, door or center console surround) it's not cutting any tangible weight, and a beautiful wood or patterned metal trim would look significantly more luxurious."
Palmer clearly feels strongly about these materials — and, to be fair, his criticisms aren't off base. But should automakers really stop using piano black and carbon fiber trim in their interiors?
To read the full rant, check out: "Just stop it with the piano black plastic car interior trim"
Related Stories: