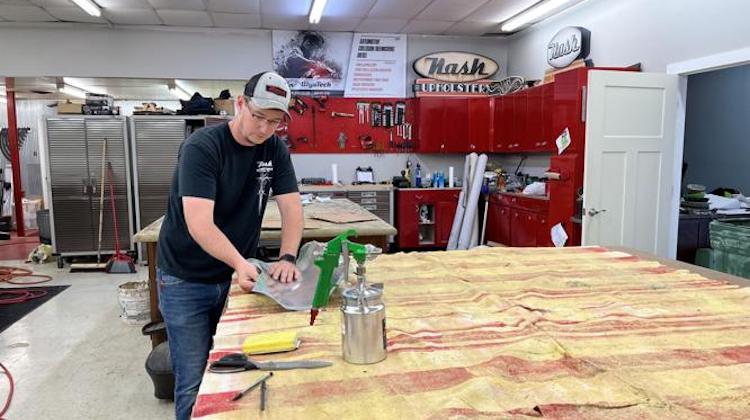 Nash Upholstery in New London, Missouri, was recently profiled in their local newspaper, highlighting how they got their start and little bit about what makes them special.
The Hannibal Courier-Post spoke to owner Nash Simmons, who told them all about his family's love for cars, and how it led him to a career in auto upholstery. Here's an excerpt from the article:
The story began many years ago, through his family's shared love of fixing up, driving and generally enjoying classic automobiles of every ilk.
Simmons remembered how he and his grandfather, John, father, Jamey, and brother Austin, always loved collecting and driving classic vehicles, painting them up and performing repairs along the way.
They completed each vehicle to personally enjoy, and they maintain that passion to this day. They restored the vehicles to a point where they could enjoy them, but no one had yet mastered the skills of upholstery.
Nash Simmons decided he wanted to take that next step, enrolling in a one-year upholstery course at WyoTech. He soon learned a variety of custom techniques, returning to establish Nash Upholstery — a nod to his name, as well as the classic American automaker — in April 2015.
"I've been busy as could be ever since," he said.
Simmons credits his shop's success to his strong relationship with Missouri's growing community of car enthusiasts — which, of course, is a great strategy to quickly growing your business.
Simmons is quick to commend members of the car community, including the two employees who accompany him on each project, big or small. They share a common bond that's evident each time an automotive enthusiast meets another, regardless of the particular car, truck, hot rod or other motorized masterpiece they enjoy.
"It's been really good. Since day one, the car community has been really good to me — and I couldn't do it without them," he said, likening them all to one big family. "There are a lot of really good guys around that have been really good to me."
It's a story many shop owners can relate to, but so few share with the wider public. By telling his story to the Courier-Post, Simmons is doing himself and his community a service. It's great advertising for him, but also introduces locals to a new service and perhaps even a career path.
To learn more about Nash Upholstery, follow them on Instagram and Facebook.
Want to get your shop's story in the local paper? Check out our article: Here's How to Get Your Auto Upholstery Shop in the News.
Related Stories: