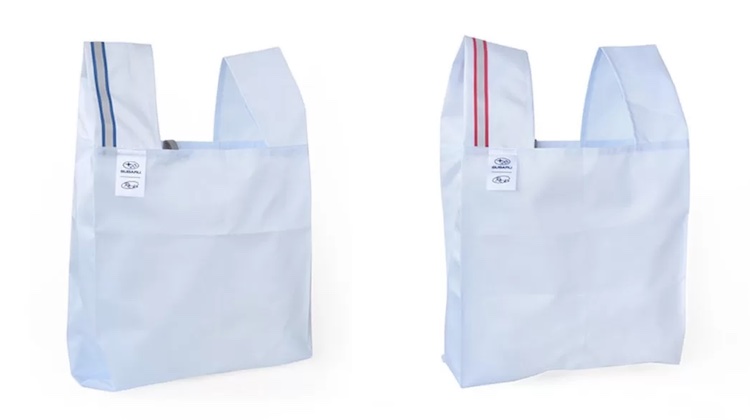 Subaru and automotive parts manufacturer Toyoda Gosei have partnered to create a line of reusable shopping bags made from discarded airbag fabric.
Toyota Group owns large stakes in Subaru and Toyoda Gosei, which both share interests in sustainable manufacturing practices. The partnership will see surplus airbag fabric, which is typically thrown away, up-cycled into shopping bags.
"Airbags are made from a special nylon material that is flame-resistant and impervious to gases. They are designed to last a long time and remain functional through many heating cycles in a car interior for years, possibly decades. In contrast, typical polypropylene shopping bags are not eco-friendly and can disintegrate quickly, scattering plastic dust everywhere," Says news site Global Vision Space.
The bags are white with stripes in either Subaru's trademark blue or STI performance red. They feature a large opening and easily fold into a compact square that's easy to store.
But shopping bags aren't the only products that Toyoda Gosei is making from airbags. Earlier this year, the auto parts manufacturer partnered with Asics to create sneakers from the fabric.
Both partnerships are a great example of how companies are finding creative ways to reduce waste in the manufacturing process and promote sustainability.
Related Stories: