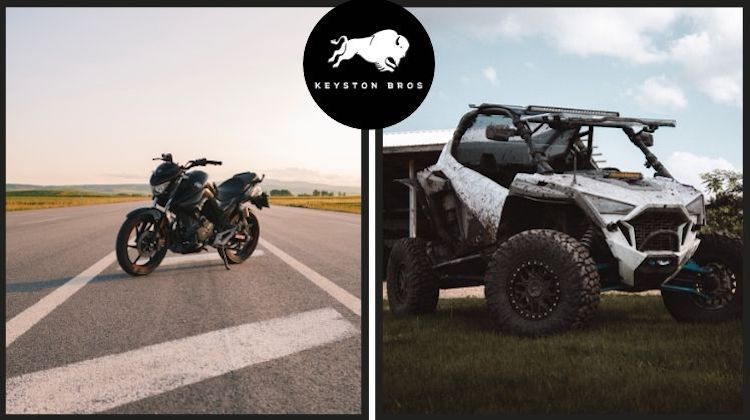 Finding the right materials and supplies for a motorcycle project is crucial to ensuring a stunning result. Fortunately, Keyston Bros. just published its first-edition Motorcycle & ATV Catalog.
The comprehensive catalog features 81-pages of high-quality fabrics, vinyls and leathers suited for outdoor use and exposure to the elements. It also includes finishing supplies, like fasteners that won't rust and thread that'll hold up in any weather condition.
"This catalog was meticulously crafted to encompass everything you need in one convenient place," said Brooke Kahn, VP of Marketing for Keyston Bros. "Inside you'll find product specs, images, product descriptions, installation shots, and so much more."
Among its many stand-out products are:
Partners vinyl and leather: For over 25 years, Partners has been the go-to product line from Keyston Bros. It offers a wide range of color options, ensuring an exact leather and vinyl match, along with coordinating perforation styles. Partners is your ticket to achieving a seamless and polished look for your motorcycle or ATV.
Off Road vinyl: This collection features four high-performance outdoor vinyls designed for motorcycles and ATVs: Advantage Xtreme, Avalanche, Grabber and SuperSport. These vinyls are engineered for unbeatable stretch and durability, even in the most extreme conditions.
Adaho leather: These natural-looking, distressed leathers are not only aesthetically pleasing but also durable. They come with built-in protection against fading, scratching and sun damage.
The entire catalog is available online in a free, interactive digital format, which makes it easy to access and browse on your desktop or smartphone. If you prefer a hard copy, simply contact your local branch and request one
"Our Motorcycle and ATV catalog is designed to help you quickly find exactly what you need," said Kahn. "Whether you're searching for a specific product like SolarFixThread or need a customized quilting service, this catalog is your go-to resource to locate everything efficiently."
Established in 1868, Keyston Bros stands as one of North America's leading suppliers and innovators of fabrics, vinyls, leathers and textiles. They cater to various markets, including automotive, marine and awning. With 18 warehouses and branches across the United States, there's always a Keyston Bros location nearby.
To learn more about Keyston Bros and create a shop account, visit keystonbros.com. You can also follow them on Facebook and Instagram. And don't forget to check out their other catalogs!
Related Stories: