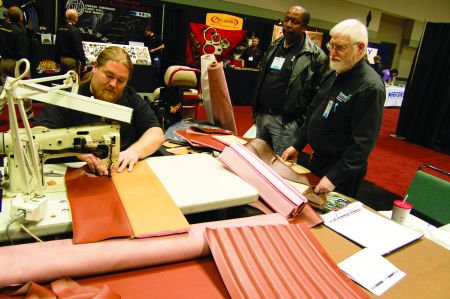 In an article titled "Learning Trim Basics from Experienced Craftspeople", Ace Eckleberry of ACE Custom Upholstery & Rod Shop encourages up and coming auto upholstery professionals to start off slow, stay humble and learn the ins and outs of the trade from an old-timer. In short, Ace recommends finding a mentor.
Schools teach the basic skill set, just enough for young people to get their foot in the door. With youth often comes an overabundance of confidence and I've seen countless young people with drive and determination get swallowed by the lure of starting their own business.
I strongly urge those with high business drive to start their own business, but to first find a successful mentor and listen to them. Nothing can come close to hands-on real-world experience under a master tradesman. If you want to be successful, you'll want your career to start with the proper knowledge and skill set. […]
Experience is really the only way to learn to glue or sew. There's no substitute for learning under a master. Humble yourself, respect the many years put in by the old-timers and learn from them. Learning all of the industry's new ideas and innovations won't matter if the proper skill set isn't in place to be able to translate them into a real-world application. [read more]
While Ace doesn't get into the nitty gritty of how to secure an internship or find a mentor, his advice is solid. Hopefully he includes the  missing information in a future article.
A good way to start, though, is to visit a credible shop, respectfully explain why you want to learn the craft and if offered a gig, be willing to work for little pay. After all, your compensation will be the tips, tricks and skills that only a seasoned pro can teach.
To read interesting stories of how other auto trimmers mastered the craft, check out The Hog Ring's article: How Did you Learn Auto Upholstery?