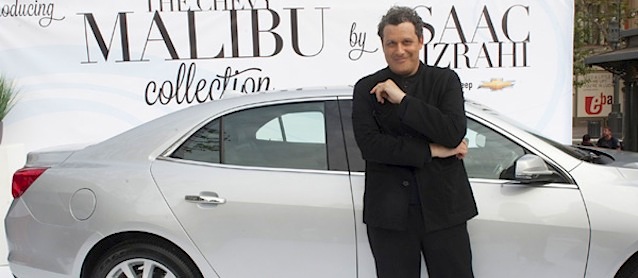 For better or worse (…and it's probably for worse), the fashion industry's relationship with automakers doesn't appear to be showing any signs of letting up. In fact, it's only getting stronger.
Car companies are still passing up the opportunity to work with talented trimmers in order to sign million-dollar deals with brand-name clothes designers who know absolutely nothing about car interiors.
Canadian news magazine Maclean's recently examined this growing phenomenon in a feature article, writing:
Mini asked Italian Vogue's editor-in-chief, Franca Sozzani, to work with them on developing a one-off Roadster, which was uncloaked and auctioned off at the big-ticket Life Ball event in Vienna last year. Emerging designers such as the U.K.'s Louise Gray, James Small and Fred Butler have produced versions of a new Vauxhall car called Adam, which launched during London Fashion Week last month. Victoria Beckham has designed a Range Rover, and even Chrysler entered the fray, producing a 2013 300C John Varvatos Limited Edition model with Varvatos, a Detroit designer. It's a "brute in a suit," as Chrysler put it, painted in phantom black—a trendy hue snatched right from the fall-winter runways. […]
It's easy to spot a couture car. Whether the designer is charged with the interior (many overcompensate by covering seats in logos or handbag leathers) or…working with a team of auto engineers to tweak the templated body of an assembly-line vehicle, runway designers are expected to break the moulds. […]
"We are living in an age of customization," explained fashion designer Isaac Mizrahi via phone from his home in New York. "It makes sense that a car company would gravitate to people who do what I do." Last fall the designer released a limited-edition capsule line of clothes inspired by the 2013 Chevy Malibu. The collection, commissioned by GM, includes Malibu driving moccasins, in a shade that reflects the car's Tintcoat colour, and a Malibu leather jacket, crafted to resemble the contrast stitching in the car's seats. [more]
Is anyone else disgusted by this? I'm particularly offended by Isaac Mizrahi's smug comments.
Sure, master trimmers like Shannon Walters don't carry the same brand recognition as Victoria Beckham, but who'd you rather have design your car's interior? Remember, Chevy promised the world when it came to the new Corvette's cabin – but only Carlex Design delivered. (Seriously, have you seen their custom Corvette C6?)
By choosing to work with fashion moguls over talented, hardworking trimmers, automakers are selling themselves short, playing their customers for fools and – worst of all – devaluing our craft.
The auto upholstery industry doesn't need fashionistas to step in on its behalf. Given the chance, real trimmers could design and execute new car interiors better than any inflated brand name. We're already doing it in the aftermarket – aren't we?
Of course, some will argue that the relationship between automakers and brand-name fashion designers benefits the auto upholstery industry – as it casts auto interiors in the limelight and may even inspire folks to have their vehicle cabins redone.
Admittedly, I once thought that too. But after further examination, I've come to realize that a benefit like that is too indirect and ambiguous to be of any value. What do you think?
Personally, I believe that the auto upholstery community needs to do two things – (1) educate customers about the petty gimmicks of automakers and (2) support the rising stars in our craft. Maybe, one day, when we have an upholsterer as famous as Chip Foose, we'll finally get the respect and type of attention we deserve.
Until then, I'm picking a fight with anyone I see wearing a pair of Isaac Mizrahi's "Malibu driving moccasins".