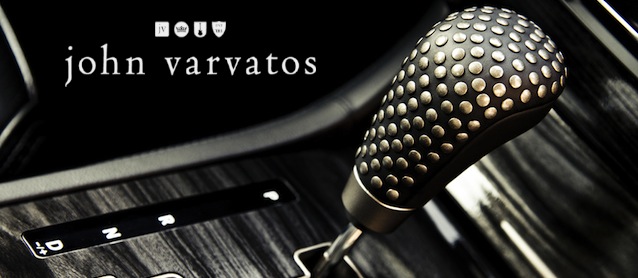 In the comments section of last week's article, "Car Couture: The Ultimate Bore?", members of The Hog Ring community noted that the primary reason why automakers overlook professional auto upholsterers to work with fashion designers is money. Of course, they're right.
BBC Autos recently published an article highlighting Chrysler Group's obsession with commissioning special-edition vehicles trimmed by famous brand-name designers, like John Varvatos and Carhartt. The article included an interview with Chrysler's CEO Saad Chehab, who confirmed how well these vehicles sell.
Dressing its models in rather bespoke threads and marketing them as special editions has had an impact on the company's bottom line. Chehab notes that 25% of Chrysler brand sales are going to specialised models and limited editions of its familiar products.
To date, the most commonly used bridge has been the 300, Chrysler's full-size sedan. There is the sportier 300 S, the audiophile-targeted Beats by Dr Dre 300, the broodingly dark 300 customised by GQ Magazine Designer of the Year and Detroit native John Varvatos, and the ice-cool white and black 300 Glacier. […]
The latest of these limited-run models is a mid-size Chrysler 200 sedan dressed by blue-collar stalwart Carhartt. The sedan features a black water-resistant fabric reminiscent of Carhartt's work clothes, accented in diesel gray stitching. […]
The special edition models have proved particularly popular in California, Chehab said. While Californians pay in the same dollars as residents of other states, their position as trend leaders bodes well for the company's nationwide success. [more]
Well, there you have it folks. With limited-edition, designer-trimmed models accounting for a quarter of all Chrysler sales, it's no wonder why automakers continue to partner with trendy brand names.
Clearly, gimmicks sell. I just wonder how automakers expect their customers to have their interiors repaired after their warranties run out. No auto upholstery shop I know of carries John Varvatos or Carhartt fabric.