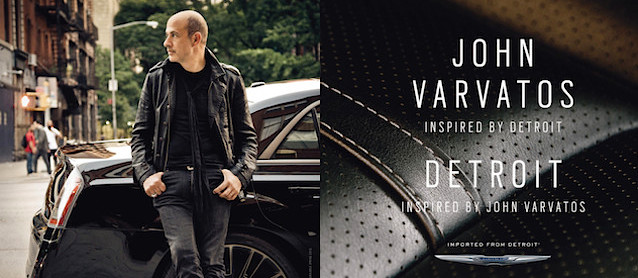 If you're a regular follower of The Hog Ring, then you're already familiar with many of the impressive (and sometimes ridiculous) ways automakers and fashion designers have influenced one another and even collaborated to design car interiors. From Bugatti launching its very own clothing line to Chrysler commissioning fashion designer John Varvatos to trim its 300, we've documented them all. However, we've never really touched on what motivates automakers to embark on such projects.
Fortunately, a recent article by The New York Times answers that question. And, not surprisingly, the answer is money:
Several luxury automakers, including Bentley, have been expanding the lines of goods they sell that have little to do with cars. This month, Bentley, a British brand, announced its fifth men's fragrance in the last two years. The company's winged hood ornament adorns the top of a special-edition cologne bottle.
Bentley also lends its name to furniture, skis, handbags and hotel suites. Similarly, Ferrari stamps its prancing horse logo on chess sets, Tod's loafers and Oakley sunglasses, while Lamborghini, Maserati and Tesla offer leather goods, from briefcases to bracelets.
The brand extensions by luxury automakers help retain customer loyalty between car purchases, and may capture aspirational buyers years before they can afford the cars themselves. […]
The product lines also capitalize on a booming luxury market, as industry sales have grown considerably alongside the soaring numbers of the ultra-wealthy in the United States and elsewhere. Luxury cars account for 18 percent of total car-sales revenue domestically, amounting to $100 billion, according to Edmunds.com, a car research and shopping site. While the luxury auto industry does not offer specific sales figures in non-auto product lines, experts say they still represent a small portion of each automaker's profits. […]
Neil Saunders, managing director of Conlumino, a retail research and consulting firm, noted that the auto industry has a history of fashion collaborations — citing examples like vehicle interiors designed by Pierre Cardin and Eddie Bauer for American Motors Corp. and Ford. But these days, more carmakers have been collaborating outside the vehicle in unexpected ways.
"It helps with brand awareness, brand enhancement and, sometimes, brand reinvigoration," Mr. Saunders said. [read more]
As obvious as the answer is, I have to admit that I'm a bit disappointed. The craftsman in me wanted to believe that companies embark on such projects because they seek inspiration and challenges beyond what they're used to. After all, that's the only way to achieve personal growth.
Still, I take solace in the fact that individual designers and craftsmen – whether they specialize in auto interiors, clothes or other products – do feel this way. How else would you explain the hundreds of auto trimmers who fill our Instagram feed with photos of wallets, purses, brief cases and other accessories fashioned out of scrap leather?
To read more about what happens when automakers and fashion designers collaborate, check out the "Upholstery Meets Fashion" section of The Hog Ring.