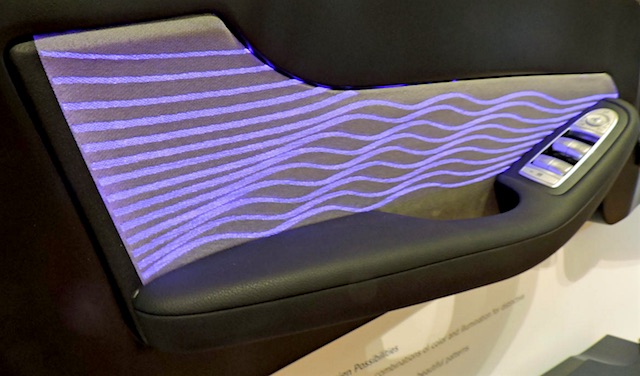 Johnson Controls' "ID15" concept interior has been turning heads since its debut at the 2015 Detroit Auto Show. Although most of the attention has been on the interior's innovative design, the fabrics and materials used are just as impressive. Case in point: Check out the glowing fabric on its door panels.
In a photo gallery highlighting the "ID15" interior, popular car blog Road Show writes:
Sure, a lot of cars have interior LED light signatures. This is a bit different. Here the light guides are woven directly into the fabric for a unique look and feel. The colors could change based on drive modes or door position. For example, when the door is open the light guides could turn red to alert any wayward bicyclists that may be zipping by.
Touch-sensitive materials, interactive baseball stitches, transparent pillars, and now glowing fabrics? Future car interiors are going to be crazy!