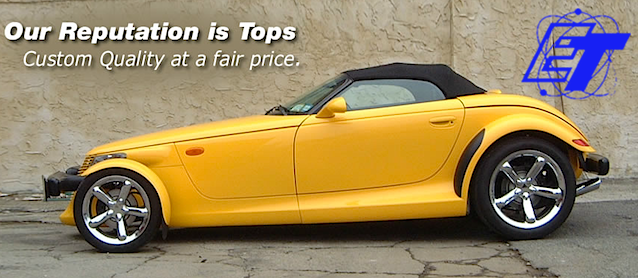 Check out the May 2016 issue of Electron Top's newsletter "Keep in Touch!" for the latest product news, some thoughts on quality manufacturing and a special ode to mothers everywhere.
If you haven't already heard, Electron Top now manufactures and sells convertible tops for the 2003-2010 Volkswagen Beetle. The top, which has been in development for sometime, is produced to the same high standards as all of Electron Top's other products, and looks and fits beautifully.
Also new this month, Electron Top has brought back OE16 Medium Grey binding and wire-on, which was previously discontinued. They also now sell window gaskets for the 1999-2003 Mercedes-Benz CLK 320 and 420.
In true Electron Top fashion, this month's newsletter features a ton of interesting reading — including "manuCRAPturing," a short essay on inferior products, and "Keeping it Simple!", a new section devoted to life hacks.
Of course, no May issue would be complete without honoring mothers, especially Kitty Strauss, the late matriarch of the Electron Top family. The newsletter reads:
May is a special time to honor all Mothers. Mothers are angels and ours was no exception. She was always there for us and never asked us for anything in return. This month's "Keep in Touch" is dedicated to all Moms for their unselfishness and loving ways. Although our Mom is no longer with us (2014) her love and affection, which she gave so freely, is a constant reminder of the incredible person she was.
May she rest in peace.
null
A third-generation, family-owned business, Electron Top cares about us little guys. In fact, they are one of the few convertible-top manufacturers left that refuses to  sell directly to the public – limiting their market to ensure that our prices aren't affected.
To show your appreciation for Electron Top's loyalty to small, independent shops, please consider giving them your business.
To learn more about Electron Top's quality convertible tops or to set up a business account, visit ElectronTop.com or call (800) 221-4476.