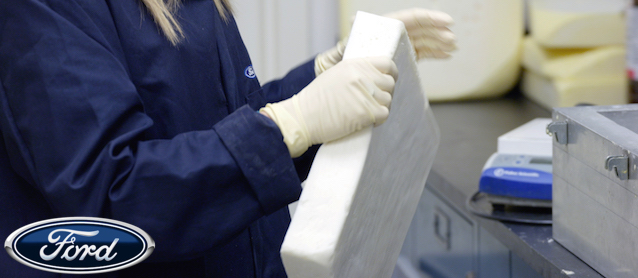 Ford Motor Company has always been a leader in the use of recycled materials. They've employed everything from old pants and plants to uncirculated cash and water bottles in the construction of their interiors. Now the automaker has announced a new achievement in recycling: It's recapturing CO2 to create foam and plastic.
Auto Evolution explains:
Instead of letting carbon dioxide into the atmosphere, Ford has developed a way to create CO2-based polyols and create plastic components from them.
Thanks to this method, Ford could reduce petroleum usage by up to 600 million pounds (300,000 tons) annually. For the time being, these foams contain up to 50% CO2-based polyols. […]
The new materials developed by Ford use carbon dioxide as a feedstock, and are in the category of biomaterials. […]
According to the company, the new replacement for petroleum-based products could be used in seats and "under-hood applications."
So, instead of the foam that's used to reduce the noise of your engine, Ford could use the new polyol foam, while seats in some 2021 Ford models could also have this type of material behind the upholstery. [read more]
Ford says the CO2-based foams and plastics will be ready for production in just five years. The goal is to keep developing this technology to reduce OEM dependence on fossil fuel-sourced plastics. How awesome is that?
To read more about Earth-friendly innovations in the field of car interiors, check out our "Green Upholstery" section.