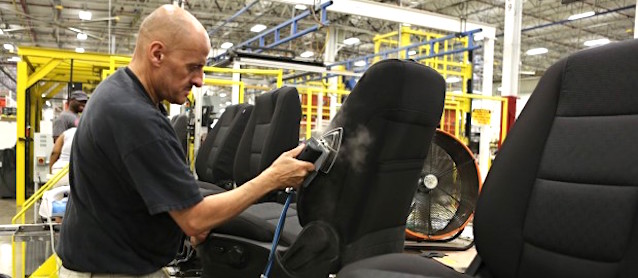 There's a reason why car seats have advanced more in the last 20 years than they have in the rest of automotive history combined. Car buyers are sick and tired of sitting in bare cabins with limited comfort and functionality. They're voicing their dissatisfaction to automakers, who are being forced to respond with better designs.
Interested in the trend, The Wall Street Journal reached out to a number of automakers, car seat manufacturers and industry analysts to understand why the change is happening now and where we can expect it to lead. Their answers are interesting and provide insight into what we as auto upholstery professionals can do to attract and retain more customers.
The Wall Street Journal writes:
For years, the automotive seat has served as nothing more than an overstuffed chair with a few buttons on the side to supply some small level of comfort.
But with rising consumer expectations and auto-maker competition, the once lowly seat is now getting some much needed attention.
Interior styling, of which seating is the cornerstone, is the second most cited reason why a shopper won't buy a car—beating out a vehicle's dependability rating, according to J.D. Power's 2016 U.S. Auto Avoider Study. The No. 1 reason remains exterior design.
"Consumers have become very aware of their surroundings," says Brent Gruber, director of J.D. Power's global automotive division. "Seating plays a large role in how auto makers can connect with consumers and create an interior space." […]
Steve Kiefer, purchasing chief for General Motors Co., says customers are giving more thought to seats since they are spending more time in their vehicles. Americans, on average, drive about 46 minutes a day, says a recent report by the AAA Foundation for Traffic Safety and the Urban Institute. […]
"Cars 20 years ago were all about horsepower, tire width or how fast you could go from zero to 60," says Ray Scott, Lear's president of seating. "Now it's all about the driving experience, and seats are where the person is spending most of the time."
The article continues with an examination of the types of seat features that customers seek. Not surprisingly, they include heaters, coolers, massagers and lane-departure warning systems. Car buyers are also very interested in genuine leather, Alcantara, decorative stitch work and other premium elements.
Nevertheless, not everyone can afford to buy a new car, let alone pay extra for in-demand features. This is where auto upholstery shops come in.
By expanding our shops' services and more effectively advertising the fact that we do interior restyling and upgrades, we can take advantage of the growing demand for comfortable, functional and luxurious interiors.
It's true that many auto upholstery businesses already offer such services, but most only position themselves as either repair, restoration or customization shops. In fact, much of the public doesn't even know that they can have aftermarket seat heaters and coolers installed. Instead, they believe they have to buy entirely new cars.
By combining this knowledge about what car owners want with some clever advertising techniques, auto upholstery shops can capture a larger portion of what The Wall Street Journal says is a $60 billion car seat market. So what are we waiting for? Let's do it…
To read the full article, go to "Luxury-Car Makers Turn Their Attention To… Seats. Massage, Anyone?"