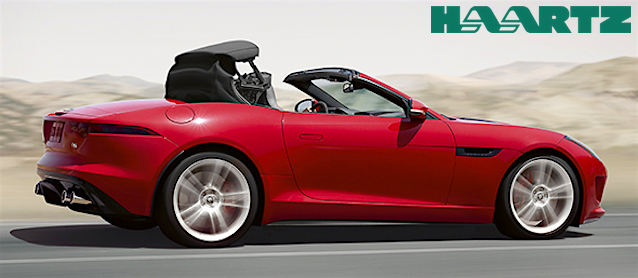 The "Great Recession" hit the automotive industry hard, and convertible tops were no exception. During that period, which spanned from the late 2000s to early 2010s, so many automakers discontinued their convertible models that industry analysts began to speak of the segment as if it was already dead.
Well, they were wrong. Because as soon as the economy rebounded, so did the demand for drop tops. However, drivers didn't just want any old vinyl top, they demanded high-quality fabrics in a range of designs and practical functions.
Fortunately Haartz Corporation, the world's leading manufacturer of top fabric, has been there to offer automakers and convertible top manufacturers a number of innovative options — including topping with custom weaving, enhanced acoustics and even infrared-reflective pigment to deflect the sun's rays and keep cabins cool.
Late last year we spoke with Matt Williams, director of business development at Haartz, about the economic upswing and its likely affects on the segment's future. Recently, we sat down with him to continue that conversation, but with a greater focus on the tops themselves.
Given the competitive nature of automakers, Williams couldn't go into great detail about the prototypes Haartz surely has up its sleeve. But his answers do provide insight into the exciting and radical direction that convertible top fabric is headed.
Below is a transcript of our Q&A. It's definitely an interview you don't want to skip:
1. Haartz is a company that prides itself on innovation. No doubt you have a few prototype fabrics in research and development. Any chance you can tell us a little bit about them?
We work closely with our Tier 1 and OEM customers on product development. But since many of our developments are held in confidence with them, we can't share many specifics. What we can say is that many are tied to improvements in material durability and new color/weave designs.
2. Increasingly strict EPA rules on fuel efficiency have pretty much put the kibosh on heavy retractable hardtops. How have these regulations affected the soft-top industry?
Between EPA fuel efficiencies and the overall cost of development and manufacture of retractable hard tops, they appear to be a dying breed. The latest data from industry forecasting services indicate that the soft-top open-air market will be growing by 216,000 units over the next seven years.
3. Climate change has affected different regions in a variety of ways — including hotter temperatures, heavier and more acidic rainfall and destructive storms. How has Haartz taken the changing environment into consideration in the development of its toppings?
We've studied various ways to make our products more fuel efficient for the vehicles that they cover. A specific example is the use of infrared-reflective pigment systems that we've developed in our PVC and acrylic fiber products to make products for our tonneau cover and convertible topping lines that reflect the suns energy and keep the cabin of the vehicle cooler. Combined with advancements in material lightweighting, these technologies offer manufacturers and consumers the option of products that reduce the environmental impact of open-air driving.
4. In recent years, Haartz has unveiled a number of aesthetic options, including high-quality weaving, custom weaving and even denim topping. Can we expect Haartz to continue pushing the boundaries of what a convertible top should look and feel like?
We're always excited to offer new design elements in convertible topping. Our data and market experience indicates that both OE manufacturers and consumers at large want to see enhanced design options, so we're working hard to make that happen. Our designers keep tabs on trends everywhere: automobiles, technology, fashion. If convertible topping material can be presented in a new way, we want to be the pioneers.
5. Currently, custom weaving is only available to automakers. Will the technology ever be made available to convertible top manufacturers so that auto upholstery shops can custom order designs for customers?
At this time, the complexity of maintaining product performance is an integral part of the material design. As such, development costs for such products remain very high and prohibitive for the design of a single top for a single consumer.
6. Unfortunately, one of the most common reasons convertible car owners seek to have their tops replaced is because of vandals who slice their roofs. Is it possible to create a top that doesn't rip?
We have offered the OEMs a slash resistant acoustical pad layer known as Haartzorb. This product is designed to resist the entry of the thief into the vehicle cabin and make it more difficult to steal items from inside the car. However, at this point, a fabric that's both functional as a tensioned cover for a roof as well as resistant to slashing with a knife isn't technically feasible.
7. Are clear vinyl rear windows a thing of the past? And are there any convertible tops on the market besides the Jeep Wrangler that still utilize them?
We believe so. The methods by which the kinematic roof modules allow the OEMs to manage the topcover fabric have all but eliminated the need for the window opening to have a fold. There are even aftermarket Jeep Wrangler tops with rigid glass windows today.
8. In terms of acoustic performance, convertible tops have come a long way since the days when road noise penetrated the cabin so loudly it was difficult to hear the radio. In what ways is Haartz continuing to refine acoustic performance?
Haartz is working closely with OEMs to optimize the balance of noise-blocking material while making sure we're not adding extra weight to the vehicle. New developments in convertible soft-top material have improved the sound-blocking performance by more than three decibels.
9. Lastly, automakers have been experimenting with smart fabrics — which have technology woven into their fibers that allow passengers to navigate vehicle controls with the swipe of their hands. Is there a future for such technology in convertible topping?
We are monitoring such technologies as a means to enhance the function of the roof cover. However, since control systems for electronics aren't typically located in the vehicle roof, demand for application into convertibles is yet to be realized.
To learn more about Haartz Corporation, visit Haartz.com.