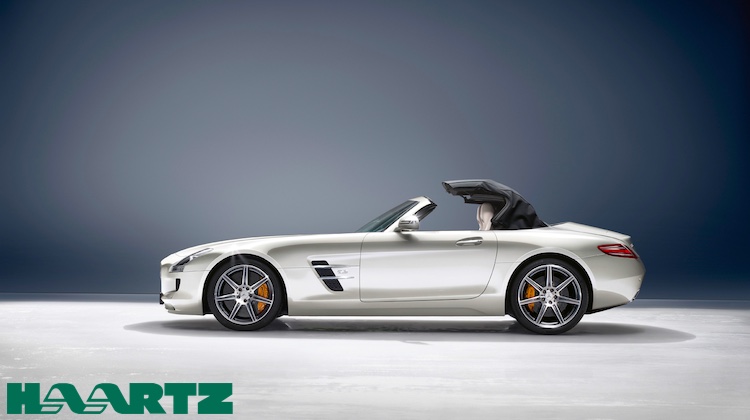 There's a reason why The Haartz Corporation is the world leader in highly engineered and uniquely designed convertible topping: No one surpasses them in quality.
Haartz, whose history dates back more than 100 years, is renowned among automakers, suppliers and auto upholstery shops for manufacturing the toughest, most functional and elegant topping fabric in the automotive industry.
From the Ford Mustang to Lamborghini Aventador, nearly every vehicle equipped with a soft top sports Haartz fabric because all of the company's materials meet OEM standards.
Their range of topping includes the popular Sonnenland, Twillfast, Stayfast and Landmark brands. Haartz also manufactures an unparalleled PVC topping and Forté for the aftermarket.
Without a doubt, Haartz is at the forefront of research and development, designing tops that withstand the elements, provide superior acoustics and even help keep cabins cool. What's more, they pioneered BlueSky, a range of topping fabrics that employ technologies such as jacquard weaving to create custom patterns and designs on convertible tops.
To maintain its position as the industry leader, Haartz adheres to a number of quality assurance and leadership programs. These ensure the highest standards of safety and quality — which ultimately result in superior products.
"We continually improve and measure quality to ensure the best soft top materials for manufacturers and trim shops," said Matthew Williams, director of business development at Haartz. "Each of our convertible topping materials are tested for weight, thickness, strength, elongation, flame resistance, UV resistance and more. These rigorous tests guarantee our convertible soft top materials perform consistently lot to lot and meet OEM standards for quality on every vehicle."
Of course, the same care goes into Haartz's range of interior trim products.
In fact, Haartz was recently honored with a Quality and Delivery Leadership Award at the Faurecia Interiors Strategic Supplier Event. The award recognizes Haartz's efforts in supplying interior trim materials to vehicles such as the Ford Mustang, F150, EcoSport and Expedition; Cadillac ATS and XT5; and GMC Acadia, among others.
"Our interior materials are uniquely engineered to the specific requirements of each vehicle, with quality in mind," said John Fox, president of Haartz. "Being recognized for outstanding quality and delivery gives validation to all of the hard work by our team. We strive for a culture of excellence and we feel lucky to serve partners who have that same drive."
Haartz's commitment to quality is important because it directly affects the condition of soft tops we buy and install on customers' cars and ultimately the reputations of our shops. That's why it's important to avoid cheap, knock-off convertible tops and only install those made from the highest quality fabric available: Haartz.
"We are seeing increased offerings of low cost, imported products that simply do not meet basic convertible topping performance standards," said Gordon Goodwin, sales manager for Haartz. "Our concern is that in the long run, these types of products have the potential to give open air driving a 'black eye,' thus damaging both the OEM market and the aftermarket for convertibles. This is why our focus on quality is paramount."
To learn more about The Haartz Corporation and its innovative products, visit Haartz.com. You can also follow them on Facebook, Twitter and Instagram.