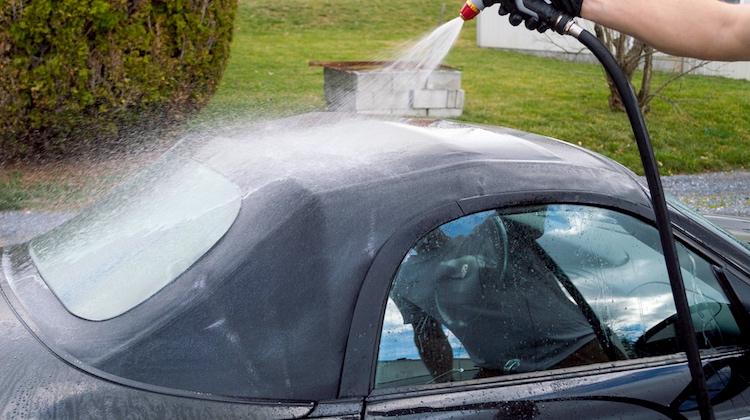 With the fall season in full swing and winter right around the corner, now is a perfect time to remind clients how to best care for their convertible tops.
The Haartz Corporation, the world's leading manufacturer of convertible topping, has a series of care guides you can share with clients that will inform them how to keep their tops in showroom condition.
"Our goal is to ensure our quality soft top materials will last for many years in the hands of consumers," said Matthew Williams, director of business development at Haartz. "We offer our expertise on soft top care so consumers can enjoy it for as long as possible. Each care tip has been carefully constructed to educate soft top owners of how to handle all the elements, weather and more."
This care guide covers a range of issues — from how to remove snow and ice without damaging a top's fabric to cleaning and storage tips. It's a must-read for convertible owners, especially those who continue to drive their cars through the winter season.
This guide focuses specifically on how to care for vinyl soft tops. It includes details on what tools and cleaners you'll need, as well as how to go about cleaning the top in a way that doesn't harm the soft top fabric.
This guide focuses specifically on how to care for cloth soft tops. In addition to cleaning instructions, it provides details on how to shield your top from the elements and which protectants to use and avoid.
Haartz published these care guides to help auto upholstery shops establish themselves as convertible experts, where customers not only get their tops replaced, but also learn care tips and even buy related products, like the RaggTopp Premium Convertible Top Brush.
Each guide is only one-page long. Print and leave them in your waiting room for clients to read, or place them in their cars after repairs. Of course, you can always share them on social media too.
For more valuable resources from Haartz, check out their free Vintage Restorer's Guide and Find Your Top database.
To learn more about The Haartz Corporation, visit Haartz.com. You can also follow Haartz on Facebook, Instagram and Twitter.