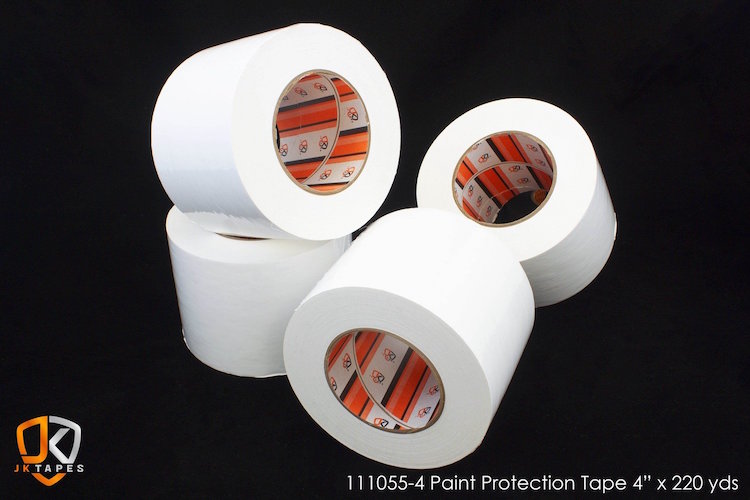 If your auto-aircraft-marine upholstery shop doesn't use protective tapes to protect vehicles from scratches and overspray, you're putting your shop at great financial risk.
Fortunately, NC Carpet Binding & Equipment has just agreed to become the East Coast distributor of JK Tapes — a line of adhesive tapes specifically designed for the automotive industry.
JK Tapes is a product of Jeremy Katz, the owner of JK Automotive Designs and an instructor at Mobile Solutions. Jeremy is also the person responsible for introducing Tesa Tape to the aftermarket.
JK Tapes are available in a range of SKUS — including paint-protection tape, double-sided foam tape, interior paint protection tapes, interior/exterior harness wrap and more.
These tapes, like their predecessor, are high-quality, strong and never leave behind messy residue (like duct tape, masking tape, blue painters tape and electrical tape do).
"For the past two years, we've worked on developing and improving on what we believe to be the ideal seven different style tape items for the automotive electronics and upholstery industry," said Jeremy. "We offer a wide range of widths in these seven distinctive tape items to accommodate any aspect of the interior build or installation."
"We've made the interior harness wrap tape more luxurious looking and functional, as well as it leaves less residue behind. We've made the exterior harness wrap tape stick better to the wire harnesses without unravelling on its own. The exterior paint protection lays down easier and flatter with more tack and does not peal up on the edges anymore. The double-sided tapes are a high-bond acrylic tape to replace mechanical fasteners in certain locations where a mechanical fastener will not work. At JK Automotive Designs, we are consistently seeking OEM-quality solutions that make any of our automotive installations of electronics or interior components appear as if factory-installed."
JK Tapes are currently used by elite shops across the United States, including Avant-Garde Design, Recovery Room Hot Rod Interiors and Bux Customs.
Jeremy approached Mal Maher of NC Carpet Binding & Equipment to distribute his product because of NC's strong reputation for customer service and quick shipping.
"We'd never met until Jeremy came into the shop to pick up a sewing machine," said Mal. "His confidence in the products and quality interiors his shop (JK Automotive) puts out went a long way with me. The biggest factor was his confidence in our brand."
Huge Sale
In celebration of their new collaboration, NC is offering some HUGE DISCOUNTS on JK Tapes. You can order products by the single roll or save big on packages. But you must act fast, because these deals expire on January 31, 2019. Shop here!
Hot Rod Package
1 Roll of Paint Protection Tape
1 Roll of Interior Wrap
1 Roll of Double Sided or Foam Tape
Deal: 10% OFF + Free Shipping
Horsepower Package
1 Roll of Paint Protection Tape
1 roll 9″ Exterior Paint Protection Tape
1 roll of Double Sided Tape
1 roll of Foam Tape
1 roll of Interior Wrap
1 roll of Exterior Wrap
Deal: 20% OFF
As craftsmen, we know t's important to use the right tool for the job. Tape is no exception.
Stop using duct tape, masking tape, blue painters tape or electrical tape on customers' cars. Make the switch to JK Tapes. You'll be glad you did.
You can buy JK Tapes on NC's website, just click here! While there, check out their line of quality industrial sewing machines.