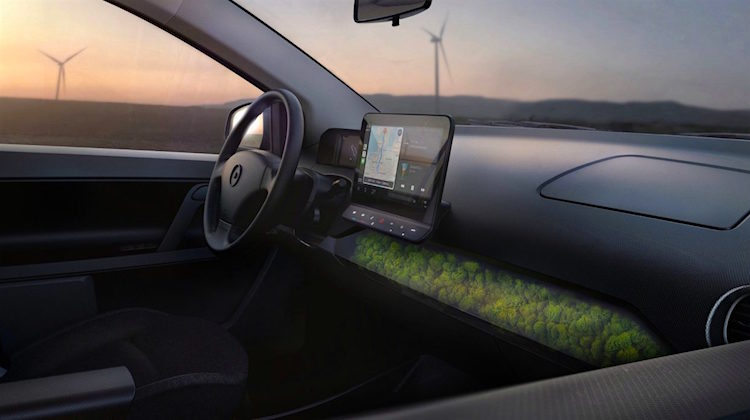 Usually, when green fuzz starts growing on your car's dashboard, it's a really bad sign. But for the Sono Sion, it's actually part of the design.
Sono Motors, a German startup that's developing affordable electric cars, recently unveiled the interior of its new Sion — which, among other features, has Island moss on its dashboard and center console.
Sono calls the moss "breSono" and says it complements the vehicle's air-filtering system.
"BreSono is not only the innovative design highlight of the vehicle's interior, it is also the natural air filter system of the Sion," Sono says on its website. "This means that it continuously improves the interior air quality while having a positive influence on the car's interior humidity. When testing the efficiency of the moss, we found that it filters up to 20% of particulate matter out of the air."
Interestingly, the moss is dead, so it doesn't require any special care or maintenance. It also won't grow wildly throughout the cabin.
"Since the moss no longer has an enzymatic reaction when in this condition, you don't even need to take any special care of it," the automaker says. "The moss is also easy to replace during a regular filter change. We've tested the moss over a period of several years and couldn't find any noticeable changes. The color of the Island Moss stays highly consistent and retains its natural appearance throughout the years."
Of course, this isn't the first time an automaker has incorporated a plant in its design. Remember Rinspeed's in-cabin radish garden? How about GAC Motors' onboard bonsai tree?
Oh yeah, and Opel once experimented with real-grass upholstery — but that was an April Fools' Day joke.
If things keep going like this, plants may someday become part of all our cars. When that happens, Trimmers will have to add a new discipline to the craft: gardening.