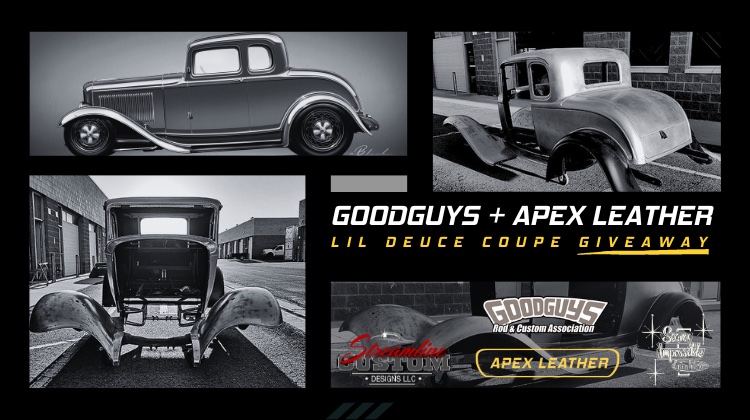 Here's your chance to win a custom 1932 Ford Five-Window Coupe trimmed by an elite auto upholstery shop!
Goodguys is unveiling the hot rod at its 25th Summit Racing Nationals in Columbus, Ohio, on July 7-9, 2023.  Until then, they're documenting the entire build on Fuel Curve, their automotive news site.
Artist Eric Black designed the custom cruiser. The builders include Streamline Custom Designs and Seams Impossible Interiors, among other top-level shops.
So far, the '32 Ford has undergone a chassis construction, a chopped top, and custom metalwork to the body. Next up is the full mechanics, paint, and — of course — a jaw-dropping interior.
Cody Nebeker of Seams Impossible Interiors will take on the guts, wrapping it in Apex Leather's line of beautiful Fusion and Renegade leather hides. It'll also feature their color-matched Serafil thread and premium Ultra Square Weave automotive carpet.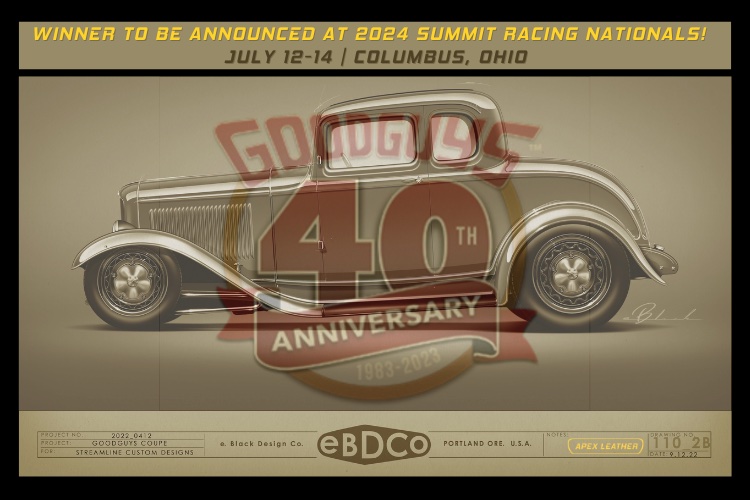 In an Instagram post, Cody said: "I'm stoked to announce that I'll be teaming up with Streamline Custom Designs on this year's Goodguys giveaway car! It's such an honor to be working with such a great organization that does a lot for this industry and to be working with Streamline on another one of their beautiful builds. I'm also excited to announce that Apex Leather has come on board and is supplying all of the materials, so you know it's going to be beautiful!"
Cody said he can't reveal the interior's design or color palette until the vehicle is unveiled in July. But based on his previous work, we have no doubt it's going to be a knockout!
"We couldn't be more thrilled to have been chosen to provide the leather for the interior of the 'Lil Deuce Coupe,'" said Jen Fedor, Vice President of Apex Leather. "It's truly an honor to be part of this quintessential hot rod build and we can't wait to see it on display!"
"We assure you, you'll be wowed by the pristine, flawless interior trimmed by Cody Nebeker," she added.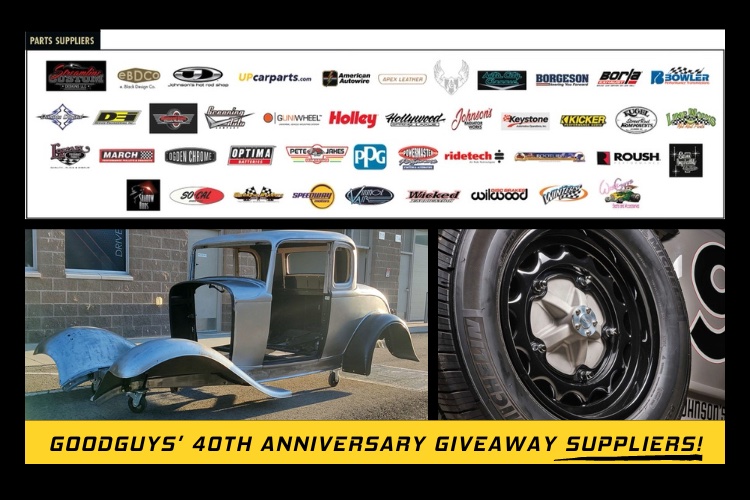 Keep your eyes peeled to The Hog Ring and Fuel Curve for more details on the interior, as well as the final reveal.
To learn more about Apex and the awesome materials going into this custom ride, visit www.ApexLeather.com, or follow Apex on Facebook and Instagram. Apex is ready to help you take your auto interiors to the next level.
Related Stories: