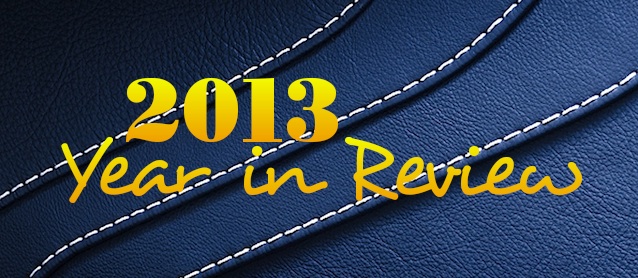 In 2013, The Hog Ring surpassed all of our greatest expectations. We forged friendships with trimmers across the globe; partnered with some of our industry's leading manufacturers and suppliers; published engaging content to keep shops updated on the latest news, products and services; and continued to see our readership grow by leaps and bounds.
Most importantly, though, we were left inspired by the number of trimmers willing to share their amazing talents with us — showcasing their work, teaching and encouraging rookies, and taking the initiative to keep this community thriving. The Hog Ring would be nowhere without you.
Let's take a look back at some of the most memorable moments of the year…
The Hog Ring Gains Sponsorship
This year, four outstanding companies – DLT Upholstery Supply, Electron Top, Kee Auto Top and Albright's Supply – stepped up to sponsor The Hog Ring — affording us the ability to continue serving the auto upholstery community. With their support, we will realize our goal of strengthening the industry for independent upholstery shops, manufacturers and suppliers alike. Please show your gratitude by giving them your business.
Sue of Fast N' Loud gives The Hog Ring an Exclusive Interview
Our exclusive interview with Sue from the Discovery Channel's hit TV show Fast N' Loud made a big splash, and helped to answer a lot of the trim community's questions about the success of her shop. Due to the popularity of her show, Sue is arguably the most recognizable upholsterer in the country right now. Her work and charisma is helping turn on an entire generation to the art of our craft.
The Hog Ring Attends DLT Upholstery Supply's First Annual "Open House"
In June, we attended DLT Upholstery Supply's "Open House" in Oak Lawn, IL, where we met the team, networked with manufacturers and finally connected with members of the The Hog Ring community in person. We even led a roundtable discussion on the state of the industry. Make sure you attend their next open house in June 2014!
The Hog Ring Reports Live from SEMA 2013
Naseem reported live from the showroom floor at the 2014 SEMA show in Las Vegas, NV in November — keeping The Hog Ring community up to date on the latest industry products and services, interviewing industry insiders and even snapping a few photos of the jaw-dropping hot rod interiors on display. Meeting Ish of West Coast Customs was an added bonus!
The Hog Ring Welcomes Articles from Seasoned Pros
This year The Hog Ring began publishing articles from veteran trimmers. The initiative garnered contributions from Fred Mattson of Convertible Tops & Interiors by Fred in Coon Rapids, MN and Marc Fisher of Auto Trim by Fisher in Lubbock, TX — both providing invaluable insight and lessons to the auto upholstery community. If you'd like to contribute too, contact us at info@thehogring.com.
The Hog Ring Launches First Online Industry Directory
We launched the auto upholstery industry's first comprehensive online directory – listing independent shops, manufacturers, suppliers, training programs and much more. It's all part of our goal to grow and strengthen the industry by bringing customers, independent shops and suppliers together. Best of all, registration is free for auto upholstery shops!
Of course, not everything that happened in 2013 was wonderful.
In May, an employee of 1st Class Upholstery in San Pedro, CA was fatally shot when a masked gunman struck him down in front of his shop. And in July, Roberto Reyna, owner and operator of Austin Auto Threads, was shot and killed outside of his home in Austin, TX. The following month, Racetech, New Zealand's premier race-car seat manufacturer and auto upholstery shop, suffered a devastating fire in which a fireman suffered serious burns to his back and arms.
To those shops – and all of the families affected by these tragedies – we offer our sincerest condolences. We will keep you all in our thoughts and prayers.
Here's to a wonderful new year!
While 2013 was another whirlwind year for The Hog Ring, the best has yet to come. We plan to continue growing and developing this website as a resource for professional auto trimmers throughout the next year. Among our plans for 2014 – we're developing an online design studio, giving away a ton of prizes, finally launching that new forum we've been promising and, of course, bringing you more great articles and interviews.
Thank you all for your loyalty and support throughout the year. Without the hardworking trimmers and sponsors who make this community strong, The Hog Ring wouldn't be where it is today. We're truly blessed that you've allowed us into your lives.
We wish you all the best in 2014. Happy New Year!
Nadeem & Naseem