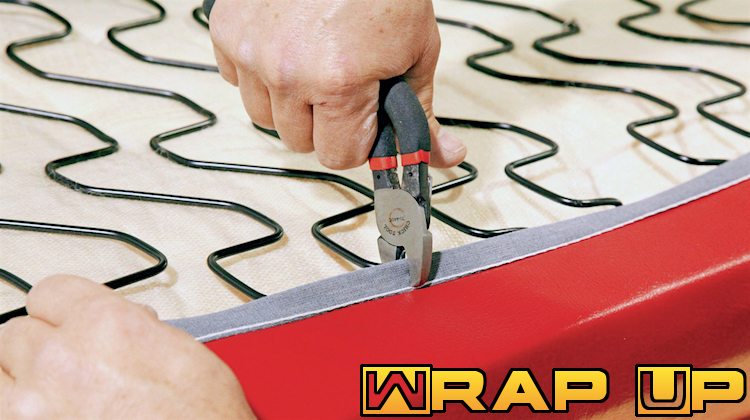 This month was a BLAST! We brought you the latest news, highlighted steep product discounts and even gave away a BeA pneumatic hog ring gun! Here's a look back at April 2018.
Albright's Supply Gives Away Power Banks
Congratulations to these 30 upholsterers and shops that won a phone power bank, courtesy of Albright's Supply!
Order Hydes Leather's Master Catalog
Hydes Leather just published its Master Collection Catalog, featuring the most extensive collection of OEM, Italian and German leather on the market.
Want $10K to Start Your Own Trim Shop?
SEMA Launch Pad is helping one young entrepreneur to launch a new business with $10,000, free marketing and other awesome prizes.
SEMA Opens Nominations for 35 Under 35
If you know a young trimmer moving the auto upholstery industry in a new and exciting direction, consider nominating him or her for SEMA's "35 Under 35."
Not Fake News: Electron Top is Here to Stay
Electron Top used this month's issue of "Keep in Touch!" to address rumors about the company that have been circulating throughout the industry.
Land Rover is Moving Away from Leather
Land Rover made headlines when its design director said the automaker would soon be moving away from using leather altogether.
Albright's has Canvas Binding on Sale!
Work with a lot of canvas? Check out Albright's Supply for the best prices on Recacril canvas binding!
Forget Wood Trim. The Future is Cork.
If you love the way wood trim looks inside a vehicle, but hate how heavy and expensive it is, Korean supplier Seoyon says it has the solution: cork.
We scoured the internet for the latest employment opportunities in the craft of auto upholstery and posted them on our jobs page.
Haartz: A Model for Green Companies
As Earth Day approaches, we're reminded of the environmental impact that vehicles have on the planet and what we as an industry can do to ensure its preservation.
Truck Destroys Auto Upholstery Shop
A trimmer is out of work today after a tanker truck crashed into his shop over the weekend, destroying the building and effectively ruining his business.
Review: BeA Pneumatic Hog Ring Gun
Despite the availability of pneumatic hog ring guns, most auto upholstery pros still rely on old-school manual pliers.
Stitchwurx Wins Our BeA Hog Ring Gun!
Congrats to Rick Esterly of Stitchwurx for winning our Hog Ring Gun Giveaway! He takes home a BeA CL24-HR 68 pneumatic hog ring gun.
Wards Picks Best Interiors of 2018
With its annual Interiors Conference only weeks away, WardsAuto has announced its list of the auto industry's "10 Best Interiors" of 2018.
That's not all! Visit our Facebook, Twitter and Instagram pages to see what other trimmers are up to. You can also join in the latest industry discussions by registering for our Auto Upholstery Forum.