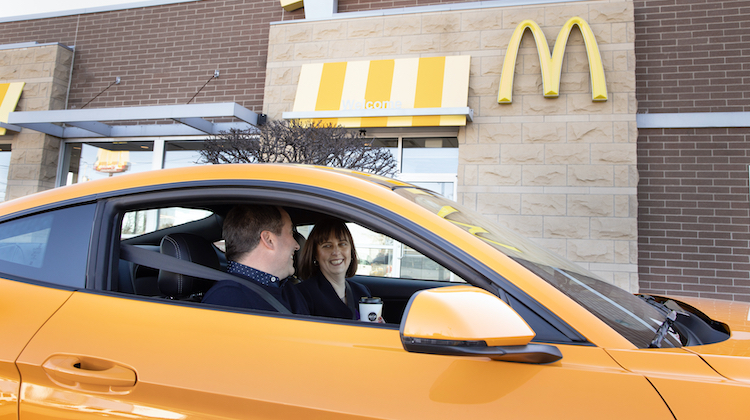 Ford and McDonald's say they want to give cars a "caffeine boost" by partnering on a project to transform coffee chaff into interior components.
"Every year, millions of pounds of coffee chaff – the dried skin of the bean – naturally comes off during the roasting process. Together, Ford and McDonald's can provide an innovative new home to a significant portion of that material," Ford said in a statement.
"The companies found that chaff can be converted into a durable material to reinforce certain vehicle parts. By heating the chaff to high temperatures under low oxygen, mixing it with plastic and other additives and turning it into pellets, the material can be formed into various shapes."
The resulting components will be 20 percent lighter and use 25 percent less energy to manufacture, Ford said.
The automaker is currently using the coffee chaff to make headlamp housings. Eventually, it will move onto undisclosed "interior components," which we assume will be plastic interior trim.
Here's a (slightly cheesy) video in which Ford explains the process:
For its part, McDonald's says it will "direct a significant portion" of its coffee chaff in North America to Ford to be used in car parts.
"By finding a way to use coffee chaff as a resource, we are elevating how companies together can increase participation in the closed-loop economy," said Ian Olson, senior director for global sustainability at McDonald's.
Coffee chaff is just the latest in a decade-long trend of transforming garbage into car parts — including plastic ocean waste, water bottles, Christmas trees, newspapers, dollar bills, and even crusty old pants.
Of course, the list pales in comparison to another trend, in which automakers and suppliers are using random plants and fruits – like grapes, apples and pineapples – to create "vegan" interior fabrics and components.
The trends, it appears, are well intentioned, but largely gimmicky and designed to appeal to eco-conscious consumers. After all, if automakers really wanted to reduce the environmental impact of their vehicles, they'd phase out gas-guzzling trucks and make electric and hybrid cars more affordable.
But hey, coffee bean plastic is cool too… I guess.