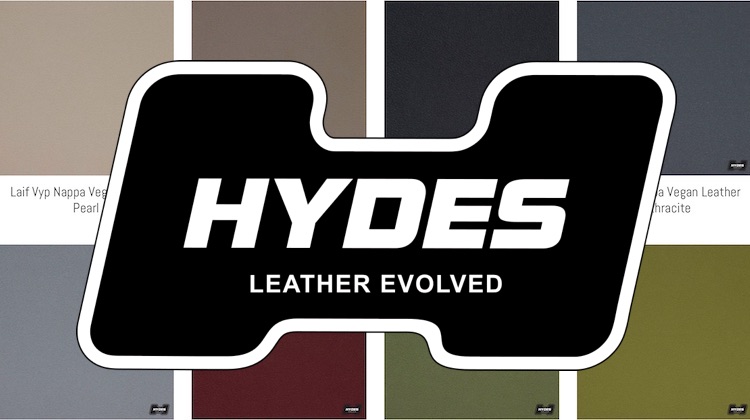 The awesome folks at Hydes Leather have introduced a new line of "vegan leather" to their range of automotive leathers and fabrics.
Of course "vegan leather" is the new buzz word for faux leather. The auto industry has experienced a surge in demand for imitation hides, which are vinyl-based, but look and feel close to the real thing.
"We're constantly monitoring the industry for the latest interior trends — whether it's distressed hides, tartan fabric or faux leather," said Aaron Laithwaite, founder and CEO of Hydes Leather. "After lots of requests for 'vegan leather,' we decided to add it to our products."
Altogether, their synthetic catalog offers 620+ colors of vinyls and Polyurethene leathers. Included in the range are 14 beautiful colors produced by the same folks who make Tesla's interior materials.
Like all of Hydes' products, the "vegan leathers" are premium quality. They're sold by the lineal yard or in whole rolls of 55 yards.
"Some of the marketing surrounding 'vegan leather' is questionable. We understand it's a marketing spin on a previously existing product," Laithwaite said. "But if it's what your clients are requesting, we want to make sure you're able to provide them with the very best stuff."
"Our collections of 'vegan leather' are automotive grade and as close to genuine leather as possible. If your clients don't want leather, this is the next best thing."
Hydes Leather also offers multiple collections of premium automotive leather and Alcantara. Their long list of services — including color matching, skiving, embossing, weaving and perforating — are the best in the industry.
Ordering from Hydes Leather is quick and easy. Just call (604) 446-0379 or visit HydesLeather.com. You can also follow Hydes Leather on Facebook, Twitter and Instagram.
Related Stories: