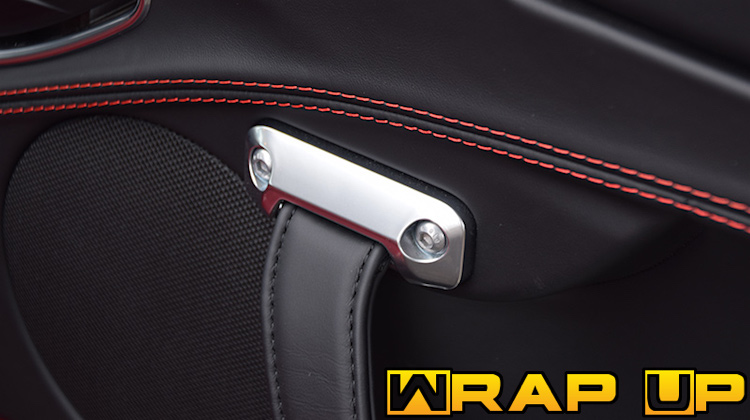 It's been a exciting month on The Hog Ring! We reported the latest industry news, featured some really inspiring auto trimmers and brought you the latest sales and promotions from our sponsors. Here's a look back at November 2017.
SALE: The Albright's Supply '10 Yard Store'
Albright's Supply just slashed prices on seven of its most popular color materials in its "10 Yard Store" — but inventory will sell out, so act fast!
NC Puts Trimmers Front and Center at SEMA
It's the last day of the 2017 SEMA Show! Have you stopped by NC Carpet Binding & Equipment's booth to try their industrial sewing machines?
A Prayer of Thanks from Electron Top
Electron Top just published its November issue of "Keep in Touch!" This month's newsletter is a prayer of thanks ahead of Thanksgiving.
Spot Aggravating Clients Before it's Too Late
Auto trimmers find that most clients are pleasant and easy to work with. But there are some who are so aggravating it makes us question our career paths.
Haartz: Leading the Automotive Aftermarket
For more than 100 years, automakers and trim shops have turned to Haartz for the highest quality soft top fabrics and other related textiles.
Meet Cameron Hayward of North Coast Custom Trim
Cameron Hayward honed his skills in auto upholstery while working as an apprentice. In time, his passion and ambition for the craft led him to open his own shop.
Shop Apprentice Stabs Trimmer to Death
An apprentice may have used shears to stab his colleague to death at an auto upholstery shop in Lagos, Nigeria, this week.
Albright's Supply Invests in Young Trimmers
Albright's Supply just made a huge investment in the future of our industry by donating more than $40,000 worth of materials to seven schools.
Loyola Auto Interiors Talks Shop and Pride
Luis Loyola of Loyola Auto Interiors was recently profiled in "The Craftsman Series," a collection of short videos highlighting skilled craftsmen.
8 Ways to Make Your Shop More Professional
Auto upholstery shops that look and act professionally are more likely to be trusted with valuable projects and can charge more for their services.
Lexas Introduces Origami Fabric Pleats
Auto upholstery shops will need to brush up on their origami before repairing Lexus' new flagship sedan, thanks to "Takumi Craftsmanship."
Electron Top: Soft Tops Made in the USA
Unlike manufacturers of subpar budget tops, Electron Top has been manufacturing quality convertible soft tops in the United States for three generations.
Meet Shane Lile of Sewn Tight Custom Interiors
Shane Lile didn't take the usual route to our craft. Instead, he worked for 10 years in corporate America before quitting to open his shop (and grow a mohawk).
That's not all! Visit our Facebook, Twitter and Instagram pages to see what other trimmers are up to. You can also join in the latest industry discussions by registering for our Auto Upholstery Forum.