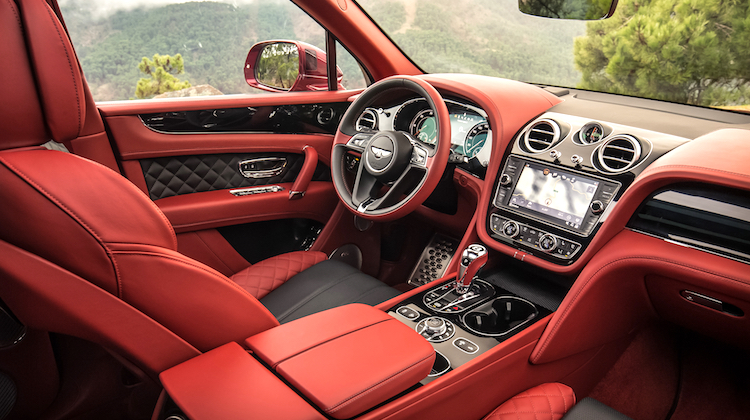 Bentley Motors is recognized the world over for its beautiful, handcrafted interiors, which critics say set the standard in luxury.
How luxurious are they? Here are 12 facts about Bentley interiors that will blow your mind:
1. Depending on the model, it can take up to 200 hours to complete a Bentley interior.
2. To contrast stitch the entire cabin takes between 25-40 additional hours, dependent on customer choice.
3. It takes 37 hours to cross stitch the standard areas of a Mulsanne.
4. To translate a picture, such as a family crest, into an embroidery design using CAD technology takes a designer 8-10 hours. The end result could contain 20,000 stitches.
5. Every Mulsanne steering wheel takes one craftsman 33 feet of thread, 5 hours and 620 stitches to complete.
6. Around 15 bull hides go into every Mulsanne, around 14 in a Bentayga, 13 in a Flying Spur, 11 in a Continental, or 10 for the Convertible version.
7. Every sheet of wood within a complete car comes from the exact same tree. This is to ensure the pattern and color is the same throughout the car and remains consistent as it ages.
8. Each bundle of veneer consists of 24 leaves.
9. Bentley wood specialists views around 269,000 square feet of veneer in its raw form during selection, checking every inch, to ensure it is of the finest quality. The process can take two days.
10. The stone used by Mulliner for its stone veneers began to form over 200 million years ago.
11. Bespoke stowage solutions can be created to store anything clients desire. Bentley recently redesigned the front armrest of a Continental to store and charge a pair of wireless headphones.
12. Bentley will match child seats to the same interior specification of any vehicle, using the same leather, stitching, quilting or piping — all as standard.
To learn more about Bentley Motors interiors, check out our previous articles on the luxury automaker. Also follow them on Instagram.