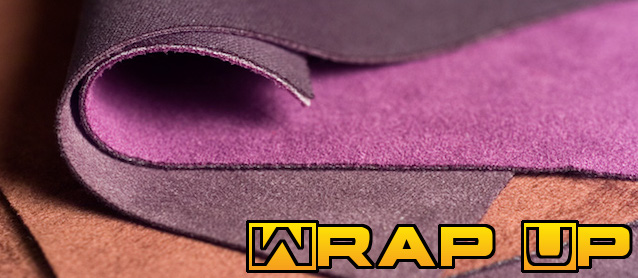 It was another great month on The Hog Ring. We reported the latest industry news, highlighted some awesome concepts and even featured a few projects. Here's a look back at May 2016!
Face Off: Chevrolet Corvette C6 vs C7 Seats
Chevrolet received a ton of complaints about the C6 Corvette's seats. Thankfully it listened, improving the C7 model's sport buckets by leaps and bounds.
The Scoop on Carpet Binders and Sergers
Interested in learning more about carpet binder and sergers, we reached out to Mal Maher, CEO of NC Carpet Binding & Equipment, to get the scoop.
Auto Upholstery Lesson 6: Suspended Headliners
In his latest article for The Shop magazine, veteran trimmer Harry Weimann teaches rookies how to replace a suspended headliner.
6 Reasons Why Leather is Ethical and Sustainable
It's up to auto trimmers to dispel myths and educate customers on why leather is, and has been for millennia, an ethical and sustainable product.
Save Big This Month at Kee Auto Top
Check out Kee Auto Top's May 2016 newsletter for the latest sales and promotions on convertible tops and a helpful "Trimmer Tip."
Photo: ID15 Concept's Glowing Door Panels
Johnson Controls' "ID15" concept interior has been turning heads since its debut at the 2015 Detroit Auto Show, especially its glowing door panels.
Is this VW Beetle the Ultimate Upcycle Project?
Upcycler Max McMurdo bought a 1974 Volkswagen Beetle for $1,000 and transformed it into 25 different pieces of furniture worth $7,200.
Ready or Not, Glowing Fabric is Coming
If you think the glowing fabric in the "ID15" interior is just another fruitless concept, think again. Another firm is developing a similar technology.
Find Out What's New at Electron Top
Check out the May 2016 issue of Electron Top's newsletter "Keep in Touch!" for the latest product news and some thoughts on quality manufacturing.
LeBaron Bonney's Oldest (and Coolest) Employee
Mary Godin is a pattern cutter at LeBaron Bonney Company. She's also 82 years old, a great-great grandmother, and has no plans to retire.
Attend Automotive Interiors Expo 2016
Automotive Interiors Expo brings together automakers, interior manufacturers, suppliers and trimmers to discuss the latest trends in the industry.
Ford Recycles CO2 to Create Foam and Plastic
Ford Motor Company has announced a new achievement in recycling: It's recapturing CO2 to create foam and plastic interior components.
Aston Martin: Turning Leather Scrap into Art
Aston Martin gave a pile of discarded leather to three of its interior designers and tasked them with producing something unique, artistic and innovative.
Inside Bugatti's World-Renowned Upholstery Shop
The Bugatti Veyron is arguably the most advanced supercar of all time. However, its interior is still handcrafted using old-world techniques.
Follow Haartz on Social Media for News and Prizes
If you don't follow The Haartz Corporation on Facebook and Twitter, you're missing out on exciting news, product information, contests and more!
Let's Help India Win a 2016 People's Choice Award
Congrats to India Polkinghorn of Loungy Upholstery in Cumbria, England, for her City & Guilds Lion Awards nomination!
We scoured the internet for the latest employment opportunities in the field of auto upholstery and posted them on our jobs page.
Go 'Topless in Miami' with Haartz!
The Haartz Corporation is sponsoring the sixth annual "Topless in Miami" convertible competition in Florida. Check it out!
That's not all! Pop into our Auto Upholstery Forum and visit our Facebook, Twitter and Instagram pages to see what other trimmers are up to and join in the latest industry discussions.