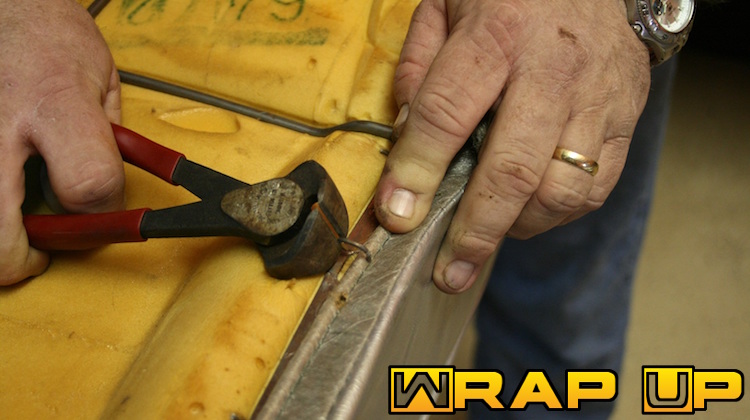 This month was a BLAST! Not only did we bring you the latest industry news, but we also gave away cool prizes, announced a new contest and unveiled huge discounts from our sponsors! Here's a look back at August 2018.
When Bears Attack (Car Interiors) 3
It's not uncommon for bears to rip through cars interiors, especially in wooded areas. Unfortunately, this time it happened to a 1965 Shelby Cobra 289.
Come to Albright's Supply Open House
Albright's Supply is hosting an Open House, and you're invited to take advantage of awesome deals, door prizes, free food and more!
Review: Needle-Nose Hog Ring Pliers
Successful auto trimmers know that it pays to invest in high-quality tools, especially those we use day in and day out. One such tool is hog ring pliers.
These 3 Shops Won Knipex Hog Ring Pliers!
Congrats to the three auto upholstery shops that won our Knipex needle-nose hog ring pliers giveaway!
Electron Warns Against 'Brown Box Tops'
This month, Electron Top mailed a flier to all of its customers asking: "Who do you want to trust your reputation to?"
Help Trimmers Affected by Wildfires
Auto upholstery pros impacted by the wildfires raging in California can apply for assistance through the Automotive Aftermarket Charitable Foundation.
Welcome to the Age of Versatile Materials
Industry reps spoke at this summer's WardsAuto Interiors Conference, where they told attendees that the age of single-purpose materials is over.
Haartz: The Highest Quality Soft Top Fabric
There's a reason why The Haartz Corporation is the world leader in highly engineered and uniquely designed convertible topping: No one surpasses them in quality.
Vilner's Custom Driving Gloves are Bad Ass
Had you asked me 10 minutes ago what I thought about driving gloves, I'd probably say they're for douche bags. But now I'm not so sure.
Most Auto Trimmers Learned to Sew as Kids
How old were you when you learned to sew? And who taught you? Those were the questions we posed to auto trimmers who follow The Hog Ring.
Albright's Supply is Having a Flash Sale!
Albright's Supply is discounting essential products by 15% — including high spec thread, Sunguard thread, staples and spray glue!
Poo Vandal Targets Louisiana Convertibles
A poo vandal is targeting convertible vehicle owners in New Orleans, slicing their soft tops and pouring sewage water into the cabins.
We scoured the internet for the latest employment opportunities in the craft of auto upholstery and posted them on our jobs page.
Hurry to Enter NC's Interior Contest!
Time is running out to enter your best project for the NC Auto Interior of the Year Award! The deadline is September 15 — which is only a couple weeks away!
The Story Behind Little Trees Air Fresheners
Little Trees have nothing to do with auto upholstery, but you will find one in nearly every customer's car. So why not learn the story behind them?
NC Slashes Prices on All Sewing Machines
If you're in the market for a new sewing machine, listen up: NC Carpet Binding & Equipment just announced HUGE discounts on all its top selling models.
That's not all! Visit our Facebook, Twitter and Instagram pages to see what other trimmers are up to. You can also join in the latest industry discussions by registering for our Auto Upholstery Forum.