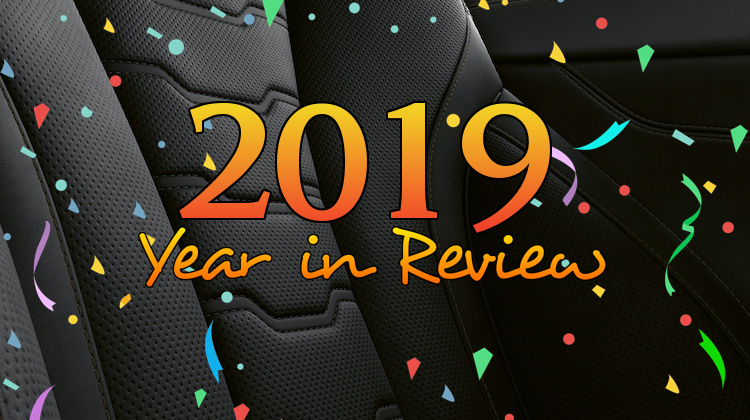 As the clock struck midnight, we raised a glass and toasted to the amazing trimmers, suppliers and manufacturers who make The Hog Ring community a massive success.
Last year, we promised you stronger, more interesting and engaging content — and delivered! We covered the latest industry news, highlighted new products and services, hosted challenges and showcased incredible talent.
We also partnered with our sponsors to give away tens of thousands of dollars in prizes, launched the first industry-wide newsletter and grew our Instagram page to more than 65K followers, which we continue to use to promote independent trim shops.
As a result, our audience grew by leaps and bounds, not just in terms of site visits, but also geography. While our primary audience remains in North America, trimmers from as far as South Africa, Russia and New Zealand joined our community, bringing with them a range of experiences and perspectives.
Together, we strengthened the industry by networking, exchanging ideas and sharing tips and tricks — not just about the craft of auto upholstery, but also the journey of running a small business.
Here are some highlights of what we accomplished:
We profiled talented trimmers…
Daniel Williams of DJ Designs Talks Shop
Customs by Vos Built a Mustang Interior That Will Blow Your Mind
Larson Custom Upholstery: 'It's about challenging yourself'
She's the Maven of Custom Motorcycle Seats
Meet Aspiring Auto Trimmer Lauren 'Ralphie' Marusic
We brought you helpful tutorials…
How to Create Multicolored Windlace like Interiors by Shannon
How to Make a French Seam Lay Flat
How Do I Remove Creases from Leather?
How to Sew a Double-Piped French Seam
The Easiest Way to Fix a Skipped Stitch
We helped give away cool prizes…
Stitchwurx Wins 'NC Interior of the Year'
Troy Reid wins Douglass' SEMA Giveaway!
Hydes' SEMA Party and Awards were a Huge Success!
Outside Van Wins an NC Sewing Machine!
NC is Giving Away 'Real Men Sew' T-Shirts
We shared valuable business tips…
Sewn Tight Custom Interiors' Secret to an Organized Shop
Some Clients are a Pain in the Ass. Here's How to Spot Them
Here's How to Get Your Auto Upholstery Shop in the News
How to Grow Your Shop's Instagram Page
What You Need to Know About Fleet Work
We tackled lots of interesting subjects…
Read this Before Sewing Airbag Seams
Haartz Gets Candid About Off-Brand Tops
That Time Singer Made Guns Instead of Sewing Machines
You'll Never Guess Where Corinthian Leather Comes From
Which is More Sustainable: Vegan Leather or Genuine Leather?
We Couldn't Have Done it Without You!
Thank you for continuing to follow The Hog Ring and encouraging other pros to do the same!
You shared and commented on our articles, published pictorials in our forum, and assisted one another through difficult projects. You also provided us with great story leads and feedback that continue to help us realize our mission of strengthening the industry.
Of course, none of this would be possible without the financial support of our sponsors: Albright's Supply, Douglass Interior Products, Electron Top, GAHH Automotive, Haartz Corporation, Hydes Leather, Kee Auto Top, NC Carpet Binding & Equipment and Robbins Auto Top.
Not only are these nine companies outstanding leaders, who provide quality products and exceptional services at competitive prices, but they also share our vision of a stronger, more unified industry. Please show your appreciation by giving them your business.
Stay tuned! It's a new year and we have a lot more in store!
May you all enjoy lots of happiness, good health and success in 2020!