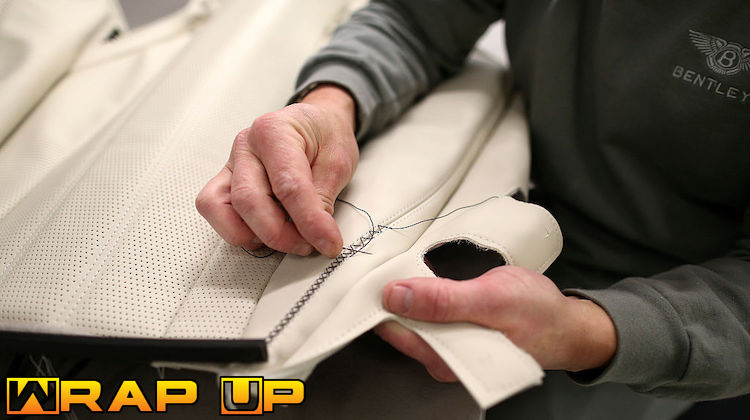 It was another successful month at The Hog Ring. We covered the latest industry news, highlighted cool projects and shared loads of business advice. Here's a look back at February 2021.
Range Rovers Recalled Over Flammable Upholstery
Jaguar Land Rover has recalled select models of its Range Rover Evoque over a potential fire hazard related to its seat upholstery.
Mini is Ditching Leather Interiors
Mini's design boss, Oliver Heilmer, says the automaker is just about finished with leather upholstery.
Your Trim Shop Can Still Grow in a Down Economy
The coronavirus pandemic has wreaked havoc on the U.S. economy, but that doesn't mean our trim shops can't still make money.
SEMA to Host a Webinar on the Classic Car Business
SEMA is hosting a live webinar on how to profit off the growing demand for classic cars.
Buick GL6: The First Car Wrapped in IMSS
To the naked eye, the Buick GL6 looks like an ordinary minivan. But inside, there's actually something special going on.
Is This the Wildest Alcantara Interior Ever?
BMW and Garage Italia Customs partnered in 2017 to create a one-off BMW i8 that just might have the wildest Alcantara interior we've ever seen.
How to Turn Online Followers into Customers
SEMA is hosting a live webinar on how to turn online followers into actual customers.
Make Valentine's Day Roses from Leather
Why spend $50 on a bouquet of roses that'll die in a few short days when you can just make them out of leather?
A Serial Pooper is Targeting Michigan Auto Shops
Someone in Warren, Michigan, is using the vehicles parked outside of auto shops as his own personal bathroom — leaving giant turds on the seats.
Check Out These New Auto Upholstery Jobs
Are you an out-of-work trimmer? Fear not. We scoured the internet for the latest auto upholstery jobs and posted them on our jobs page.
This Shop Survived the Pandemic by Staying Positive and Adapting
TopStitch Upholstery had just made it through a devastating flood when the coronavirus pandemic struck. But they stayed positive and adapted.
Registration Open for the 2021 SEMA Show
Registration for the 2021 SEMA Show in Las Vegas is now open! And yes, we have details.
It's a Good Time to Reinvent Your Trim Shop
Auto upholstery shops experiencing down time can take advantage of the lull in business to reinvent themselves.
Nominate a Trimmer to SEMA's Hall of Fame
It's about time SEMA inducts an auto trimmer into its Hall of Fame — don't you think?
This Rolls-Royce Features Rare Koa Wood Veneers
Rolls-Royce's Koa Phantom features interior veneers made from Koa wood, a rare species of tree that grows only on Hawaiian soil.
Help Trimmers Impacted by Winter Storms
Winter storms knocked out power and cut water for millions of Americans – including trimmers – in the Southeast. Here's how you can help.
Albright's Ships Upholstery Supplies for Free
Did you know that Albright's Supply offers free shipping? It's one of the best shipping programs in the upholster industry.
With coronavirus wreaking havoc on the U.S. economy, small businesses like ours are suffering. But that's no excuse to cut corners.
That's not all! Visit our Facebook, Twitter and Instagram pages to see what other trimmers are up to. You can also join in the latest industry discussions by registering for our Auto Upholstery Forum. And don't forget to subscribe to our FREE newsletter!