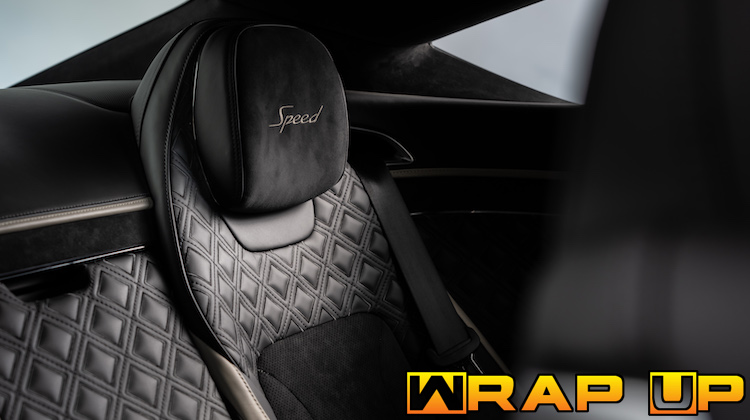 The Hog Ring had a great start to the new year! We covered the latest industry news, highlighted projects, products and more. Here's a look back at January 2022.
Free Webinar on Small Business Finance & Accounting
Start the new year right by getting your trim shop's finances in order.
ITMF Postpones Conference for 2nd Time
The International Textile Manufacturers Federation has postponed its annual conference for the second time due to the ongoing coronavirus pandemic.
This Mercedes-Benz Interior is Basically a Salad
Mercedes-Benz just unveiled an all-electric concept car with an interior trimmed in mushrooms, cactus, bamboo and other organic materials.
Trimmer James Kenneth Kelly Dies at 87
Trimmer James Kenneth Kelly of New Castle, Pennsylvania, has died at age 87.
The C4 Corvette's Cool Seat Belt Feature
The Chevy C4 Corvette had a really cool seat belt feature that most cars never adopted.
Covercraft Industries Buys Lloyd Mats
Covercraft Industries, maker of vehicle seat covers and other protective products, just acquired Lloyd Mats, a manufacturer of custom fit vehicle carpets and cargo mats.
Listen to Tracy Weaver on NC Shop Talk!
Tune in to the latest episode of NC Shop Talk to hear Tracy Weaver of Recovery Room Hot Rod Interiors talk about his award-winning custom trim shop.
Win a Scholarship to Study Auto Upholstery
Are you a student preparing for a career in auto upholstery? Then you're eligible to apply for an auto upholstery scholarship through SEMA.
Trimmer Seth Blair of Ogden, Utah, has died at age 91.
The 'Rain Man' Convertible is for Auction
Actor Dustin Hoffman is auctioning the 1949 Buick Roadmaster convertible from "Rain Man."
Webinar: How to Sell Your Small Business
No one starts a business with plans to run it forever. Eventually, it must be sold, passed on to a family member or closed.
Bentley is Hiring Apprentices and Trainees
Bentley Motors recently announced plans to hire 113 early career employees — including apprentices and new graduates.
Browse Keyston's 2022 Upholstery Catalog
No auto upholstery shop is complete without a copy of Keyston Bros' 2022 Upholstery Supplies Catalog.
Spotlight Customs Just Launched its Own Coffee Brand
Like most trimmers, we start each day with a hot cup of coffee — which is why we were excited to learn that Spotlight Customs just launched its very own brand.
That's not all! Visit our Facebook and Instagram pages to see what other trimmers are up to. You can also join in the latest industry discussions by registering for our Auto Upholstery Forum. And don't forget to subscribe to our FREE newsletter!