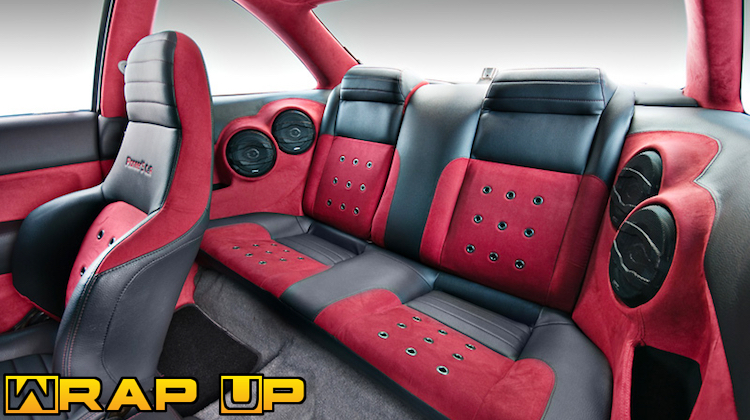 It was a great month on The Hog Ring. We covered industry news, unveiled new contests and events, highlighted cool interior projects and more. Here's a look back at August 2023.
Trimmer William Marino Jr. Dies at 81
He owned and operated Marino's Auto Upholstery for more than 35 years.
Keyston Bros' New Premium Automotive Samples are Here!
Keyston Bros just released a new fandeck featuring six vinyl lines that every shop should carry.
This Ford Sun Visor Can Be Used to Smash Windows
Ford Motor Company recently filed a patent for a sun visor with a built-in tool to smash windows.
SEMA Awards $245,000 in Scholarships to Industry Rookies
SEMA just gave away $245,000 in scholarships through its SEMA Memorial Scholarship Fund.
The NC Auto Interior Contest is Back + Epic Giveaways for 2023!
NC Auto Interior of the Year is back for its sixth year — and open to anyone in the industry to enter!
Bentley Begins Tanning Leather in Olive Mill Wastewater
Bentley Motors is introducing its first fully organic Olive Tan Leather.
Register for the 2024 SBN Women's Leadership Forum
The SEMA Businesswomen's Network is hosting a leadership training to help women in the industry.
Aston Martin Just Introduced a New Convertible DB12
Aston Martin calls the new DB12 Volante "the ultimate open-top super tourer" — and we don't doubt it.
Sewing Influencer Nearly Killed in Car Crash Caught on Film
Sewing influencer Jen Wesner was recently recording a video when she was nearly killed.
The World's Biggest Sewing Needle is in Sacramento
If you're cruising along Interstate 80 you might be surprised to see an 80-foot sewing needle.
This Cologne Smells Like a Bentley Interior
Bentley Motors just released a men's cologne inspired by the luxury automaker's interiors.
Trimmer Gail Little Dies at 87
After completing his studies, he worked many jobs, including as an auto upholsterer for many years.
Vegan Leather Has Been Around Since the Ford Model T
MotorTrend just published a great article breaking down the "vegan leather" craze.
Listen to Florida Boy Customs on NC Shop Talk!
Tune in to the latest episode of NC Shop Talk to hear Corbin Boland of Florida Boy Customs.
MasterTech Expo Launches Industry Awards
MasterTech Expo is hosting an awards ceremony honoring some of the industry's best.
Katzkin Leather Acquires Roadwire Leather
Katzkin Leather announced that it has acquired the assets of Roadwire Leather.
Trimmer Who Restored President Woodrow Wilson's Car Interior Dies at 100
He worked at Columbia Auto Seat Covers, where he did full restorations of antique cars.
Is Kia Bringing Back the Front Bench Seat?
The front bench seat has been dead for years, but it looks like Kia might bring it back.
Volunteer for SEMA's Professional Restylers Organization
Tired of auto upholstery not being well represented in the industry? Do something about it.
That's not all! Visit our Facebook and Instagram pages to see what other trimmers are up to. You can also join in the latest industry discussions by registering for our Auto Upholstery Forum. And don't forget to subscribe to our FREE newsletter!