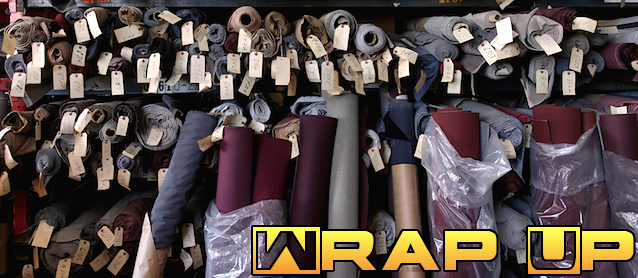 It's been a busy month at The Hog Ring. We featured great products, profiled some outstanding shops and their interior projects, highlighted intriguing concepts, and kept the community abreast of the latest news and conferences. Here's an end-of-month wrap up for March 2014.
A New Day at Albright's Supply
Albright's Supply recently launched a state-of-the-art warehouse inventory system that's sure to enhance customer service and keep prices low for auto upholstery shops.
Rods N' Wheels Tackles a Mustang Interior
On tonight's episode of Discovery Channel's new car series "Rods N' Wheels," the crew at Da Rod Shop find out first hand why it's best to leave upholstery work to the professionals.
Redesigning the 2015 Ford Mustang Convertible
Ford unveiled some noteworthy changes this week to the design and engineering of its 2015 Mustang convertible top — which every auto trimmer should know before agreeing to replace one.
2014 Hotrod & Restoration Trade Show
Not every auto upholstery shop specializes in hot rods, but those that do should plan on attending this year's Hotrod & Restoration Trade Show in Indianapolis, Ind. on March 26 – 28.
Lambo Stitching with Brent Parker Motor Trimming, Part 3
In this third installment, Brent explains the process of how he transformed this exotic supercar's drab door panels into stunning works of art.
Are you an out-of-work auto trimmer? Fear not. We've scoured the internet for the latest employment opportunities in the field of auto upholstery and posted them on our jobs page.
Still Not Registered for Our Industry Directory?
If you run an auto upholstery shop, industry supplier, manufacturer or training program and haven't yet registered for our Industry Directory — what are you waiting for?
Want a Scholarship to Study Auto Upholstery?
Are you currently enrolled or interested in enrolling in an auto upholstery training program? If so, you may be eligible for SEMA's Memorial Scholarship or Loan Forgiveness Program.
Behind the Scenes at Recaro Seats
Once a brand and style of bucket seat only auto trimmers and car enthusiasts knew, Recaro has grown to become the auto industry's preeminent manufacturer of sport seats.
Pontiac Stinger: The Most Ridiculous Interior Ever
There's a reason why not all concept cars make it to production — some are just plain ridiculous. Check out the following commercials for the 1989 Pontiac Stinger, a vehicle marketed as "almost as much a condo as a car."
Leather Seat Covers that Won't Burn Your Butt
New Zealand tannery Tasman Tanning is investing millions of dollars to develop "cool hides" — genuine leather that doesn't get hot. If successful, they say it could become an industry staple.
VW's Multivan Alltrack Concept Hinge Seam
If you thought Faurecia's flat-seam stitch was something special, get a load of this hinge seam featured on the new Volkswagen Multivan Alltrack Concept — it's unlike anything I've ever seen before.
Leather Interiors: Is Brown the new Black?
A recent article published by The Hollywood Reporter cites designers at BMW and Cadillac calling brown leather interiors the new fad in cabin design — bumping black leather, the perennial winner, out of the picture.
Shop Profile: JS Custom Interiors
In Just 10 years, JS Custom Interiors of Salt Lake City, UT has transformed itself from a part-time gig based in shop owner Justin Stephens' garage to one of the country's premier custom hot rod interior shops.
For to Establish Auto Design Scholarship Fund
William Clay Ford, last surviving grandchild of Henry Ford, passed away earlier this month. To honor his legacy, Ford is establishing a scholarship fund that vehicle interior designers can take advantage of.
Where Did the Term 'Tonneau Cover' Come From?
Auto trimmers and restylers shouldn't be surprised to learn that the number one selling aftermarket product for trucks in the tonneau cover — but how many of us know where the term comes from and why we use it?
Photo: Mercedes-Benz Granite Interior Trim
Not concerned about vehicle weight? Then forget about plastic, carbon fiber or wood trim. Mercedes-Benz will dress your interior in genuine granite.
Behold the Future: Bed Spring Car Seats
Never mind foam rubber. Johnson Controls, interior supplier to the world's leading automakers, has developed a car seat that — like a bed mattress — provides cushion and support via coiled steel springs.
Lambo Stitching with Brent Parker Motor Trimming, Part 4
In the fourth and final installment of our series, Brent shows us how he handcrafted the luxury supercar's carpet, headliner and hood lining. And, finally, we take a look at the complete project.
Attend Automotive Interiors Expo 2014
Interested in learning what the future holds for car interiors? Always wanted to travel to Europe? Do both by attending Automotive Interiors Expo 2014 on June 24 – 26 in Messe Stuttgart, Germany.
Find out What's New at Electron Top
For the latest news, sales and promotions from Electron Top, check out the March 2014 issue of their monthly newsletter "Keep in Touch!"
That's not all! Pop into our Auto Upholstery Forum and visit our Facebook page to see what other trimmers are up to and to join in the latest industry chatter.