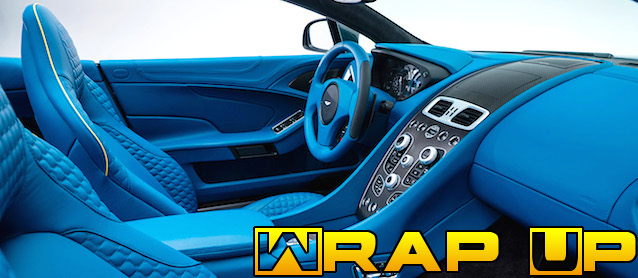 It was another productive month on The Hog Ring! We covered the latest industry news, featured awesome sales and promotions from our sponsors and showcased some impressive interior designs. Here's a look back at July 2015.
Attend the Automotive Seating Innovators Summit
If you're interested in automotive seating, then don't miss the 9th Annual Automotive Seating Innovators Summit in Detroit, Michigan this month.
Yes, Tesla Offers Vegan Car Interiors
It's not enough that the Model S runs on electricity instead of gasoline, environmental and animal-rights activists also want Tesla Motors to make it vegan.
The 2016 Camaro's Throwback Convertible Top
Just when you thought the Camaro couldn't get more retro, the all-new model is set to feature a convertible soft top that's similar to one that debuted 30 years ago.
Dartz Designs the Ultimate Car Safety Seat
We've seen some pretty cool child safety seats, but this gold-plated, crocodile-skinned, bullet-proof version upholstered by Dartz Motorz Company takes the cake.
What the Super Rich Look for in Car Interiors
The New York Times recently published an article about how the super rich shop for cars and why they, more than any other group, are concerned with their interiors.
New York Upholstery Shop Destroyed in Fire
Steve's Custom Canvas & Upholstery was destroyed in a fire after powerful winds knocked a piece of the building's metal siding into a power line, igniting a blaze.
Happy Car Collector Appreciation Day!
It's Car Collector Appreciation Day! And to celebrate the new holiday, you need to drop the top on your project car and cruise the boulevard to the nearest car show.
Save Big This Month at Kee Auto Top
Want to save big on your next convertible top purchase? Check out Kee Auto Top's July newsletter for the latest promotions and discounts!
Leather Glossary: Everything You Need to Know
Check out Hydes Leather's comprehensive online leather glossary — which lists just about every leather-related term in the industry along with a simple definition.
Photo: Renault's 'Touch Design' Philosophy
Renault recently unveiled its Talisman concept car, a vehicle that improves upon the groundbreaking 2001 version that showcased its "Touch Design" philosophy.
On Sale: Alea Seat Heater-Cooler Kits
You know that Alea Leather Specialist, Inc. manufactures the highest quality leather seat covers available, but did you know they sell seat heater and cooler kits too?
Volvo Reinvents the Child Safety Seat
Forget everything you know about child safety seats, Volvo Group just reinvented the way they look and function in cars.
Cashing in on Leather Seat Covers
To really cash in on the market of leather seat covers, shops need to forge strong relationships with car dealerships, says SEMA PRO council member Josh Poulson.
2016 Camaro to Feature Haartz Topping
Need another reason to get excited about the 2016 Chevrolet Camaro's throwback convertible top? It will be manufactured using topping fabric by Haartz Corporation!
Photo: Skoda Introduces Dog Seat Belts
Czech automaker Skoda Auto recently introduced a new line of accessories for dog owners who like to take their pups for car rides. Among them is a seat belt.
We've scoured the internet for the latest employment opportunities in the field of auto upholstery and posted them on our jobs page.
Find Out What's New at Electron Top
Electron Top published a series of flyers this month — ranging from helpful product info to notes about flag etiquette, and even a note of support for The Hog Ring.
Bill"s Auto Upholstery Fulfills its Patriotic Duty
Robert Floyd of Bill's Auto Upholstery in Lawton, Oklahoma was recently profiled on local ABC 7 News for his inspiring stitch work — not on cars, but American flags.
Carlex Design Trims a Mercedes-Benz CLS
From its state-of-the-art garage to its jaw-dropping interior designs, Carlex Design never ceases to inspire. Case in point, this Mercedes-Benz CLS interior.
In India, Taxicab Interiors Get a Facelift
A Mumbai initiative is making strides in sprucing up the cabins of ordinary taxicabs with eye-catching designs. Best of all, auto upholsterers are one of the many beneficiaries.
Hot or Not? Leather-Clad Fiat 500
We've seen sports cars with their entire exteriors wrapped in leather. But for some reason, this bespoke Fiat 500 that's only partially wrapped in leather, strikes us as more odd.
That's not all! Pop into our Auto Upholstery Forum and visit our Facebook, Twitter and Instagram pages to see what other trimmers are up to and join in the latest industry discussions.