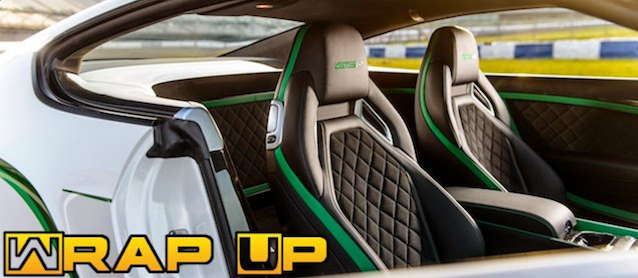 December rocked! We covered the latest industry news, showcased some jaw-dropping projects and highlighted the latest sales and promotions from our awesome sponsors. Here's what you might have missed.
The Mercedes-Maybach is a Case Study in Luxury
Of all the vehicles unveiled at the 2016 Los Angeles Auto Show, the 2017 Mercedes-Maybach S650 Cabriolet is perhaps the most luxurious.
What's New at Albright's Supply?
Albright's Supply is celebrating Christmas and ringing in the New Year with a slew of awesome sales and promotions.
Mobile Solutions is Headed to Australia
The automotive interior and mobile electronics school will be hosting its highly acclaimed "Hot Rod Interior Training" program in Queensland, Australia.
A Visit to Bentley Motors' Wood Shop
Bentley Motors is renowned for its luxurious cabins, which are often upholstered in supple leather and adorned in exotic wood.
Chinese People Hate the Smell of Leather
Not all of them, of course, but enough that luxury automakers are actually demanding odorless hides to crack the market of 1.3 billion people.
We scoured the internet for the latest employment opportunities in the field of auto upholstery and posted them on our jobs page.
This Steering Wheel Costs More than $30,000
Dartz Motorz Company is responsible for some wild interiors. But this jewel-encrusted steering wheel is definitely their most extravagant element.
How GMC and Buick Design Car Interiors
Most automakers agree that the most difficult element of a vehicle to design, engineer and build is its interior.
Rinspeed Introduces the In-Car… Radish Garden?
Rinspeed is no stranger to eco-friendly cars. But it's latest concept, Oasis, take the "go green" mantra literally with an in-cabin radish garden.
This Car Fabric is Helping to End Poverty
Remember Piñatex, the experimental faux leather made from pineapple leaves? Turns out it's more than just another eco-friendly fabric for cars.
How to Clean Cloth Auto Upholstery
Repairing a damaged seat panel can be a great way to save clients money. But if the old upholstery is dirty, chances are it's still not going to look good.
The Shop Features Interview with Bux Customs
Check out our interview with Chris McClintock of Bux Customs in the January 2017 issue of The Shop magazine.
That Pink Stain on Your Vinyl is Bacteria Poop
Forget what you heard about pink stains on white vinyl. It's not a type of mildew and there is no way to clean it. The truth is much grosser than that.
DuPont and the Rise of Faux Leather
Tired of seeing luxury cars trimmed in faux leather? Blame DuPont. The chemical giant is largely responsible for introducing fake hides to the auto industry.
How Albright's Supply Saves Trim Shops Money
Through a combination of smart business practices, a high-tech inventory system and free shipping, Albright's Supply saves customers money.
How to Clean and Condition Leather Upholstery
It's incumbent on every auto upholstery shop to ensure that customers know how to properly care for their leather interiors.
That's not all! Pop into our Auto Upholstery Forum and visit our Facebook, Twitter and Instagram pages to see what other trimmers are up to and join in the latest industry discussions.