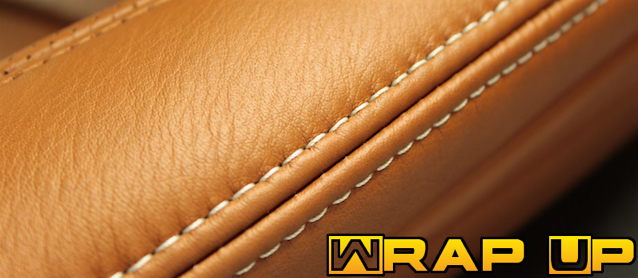 The Hog Ring is on fire! This month we reported on the latest industry news, gave away some awesome prizes, announced a MAJOR SALE on sewing machines and taught trimmers how to sew a Double-Piped French Seam. Here's a look back at April 2017.
Review: DECANO Self-Adhesive Sunroof
DECANO recently sent us two sunroofs – one to test and the other to give away to one lucky member of The Hog Ring community. What follows is our review.
Enter the Haartz Spring Fling Giveaway!
The Haartz Corporation is celebrating spring by giving away $50 Shell Gas Cards to their followers on Facebook and Twitter!
Shop Profile: Marquarts Custom Creations
"Any job worth doing, is worth doing well," says Marcus Marquart, owner of Marquart's Custom Creations in Fort Wayne, Indiana.
SEMA Accepting Nominations for 35 Under 35
If you know a young trimmer moving the auto upholstery industry in a new and exciting direction, nominate him or her for SEMA's "35 Under 35."
Upholstery Tips from Brent Parker Motor Trimming
This four-page article in The Shop magazine covers a range of subjects — from trimming concave curves to the benefits of EVA closed cell foam.
Vilner Just Trimmed a Mustang in Horse Leather
If you think Vilner pushes boundaries with its unique interior designs, take a look at it's latest project: A 2015 Ford Mustang GT upholstered in mustang leather.
Albright's Supply is Ready for Boat Season
Shops that trim boat interiors will be excited to read this month's Albright's Supply newsletter — which is jam packed with marine-grade materials and supplies.
Family Discovers Only Downside to Convertibles
A family was cruising around in their Renault convertible when the unthinkable happened: A trailer full of liquid manure spilled into their car!
Pro Tip: How to Measure Leather Hides
Unlike synthetic materials, leather hides come in a range of shapes and sizes. This can make it difficult to estimate how much you may need for a project.
Attend Automotive Interiors Expo 2017
Want to vacation in Europe and write it off as a business expense? Attend the Automotive Interiors Expo in Stuttgart, Germany. It's the perfect excuse!
Go Back in Time to Visit Martin Auto Body
We've all heard industry veterans say auto upholstery is an old, slow-changing craft. But these photographs really illustrate the point.
Save Big This Month at Kee Auto Top
If you're looking for discounts on quality products, check out Kee Auto Top's clearance sale! Act fast because these sales will end soon.
How to Sew a Double-Piped French Seam
Introducing the Double-Piped French Seam! It's unique, beautiful and – best of all – fairly simple to execute. Check out this pictorial!
Major Discounts on Monster Sewing Machines!
NC Carpet Binding & Equipment just announced its BIGGEST sale of the year, with prices slashed exclusively for members of The Hog Ring community!
Another Chance to Win Gedore Scissors!
Our previous giveaway of Gedore Craftsman Scissors was such a massive hit that we're doing it again! Here's your chance to win!
Jeff Gardner Wins our Gedore Scissors Giveaway
Congrats to Jeff Gardner of Avant-Garde Design for winning our Gedore Craftsman Scissors Giveaway, sponsored by KC Tool.
Haartz Sets a High Bar for 'Green Companies'
As the effects of climate change become increasingly obvious, manufacturers in our industry are taking more steps to limit their environmental footprints.
Find Out What's New at Electron Top
Convertible top repairs picking up? Check out Electron Top's latest issue of "Keep in Touch!" for new products, sales, price changes and more.
Discovery Channel Wants You for 'Garage Rehab'
Richard Rawlings of "Fast N Loud" is hosting a new show where he will save struggling automotive shops before they go out of business.
Albright's Supply Publishes Spring 2017 Catalog
Everything you need to run a successful auto upholstery shop can be found in Albright's Spring 2017 Product Catalog — including hog rings!
Don't Skimp on Stainless Steel Staples
Auto upholstery shops that save money by forgoing stainless steel staples for galvanized ones are making a big mistake.
Simcon Tops: Can't Find Cambria? Use Stayfast
Trimmers have been buzzing about their inability to find Cambria, the material most commonly used to trim "simcon" tops. We found out why.
That's not all! Visit our Facebook, Twitter and Instagram pages to see what other trimmers are up to and join in the latest industry discussions.