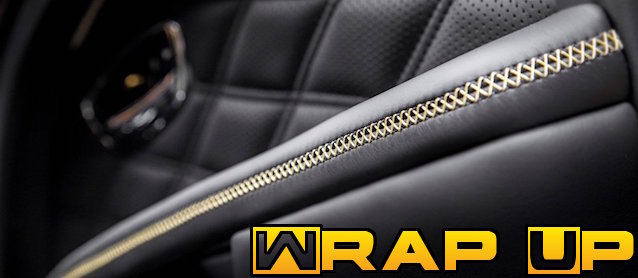 This month rocked! We covered the latest industry news, showcased gorgeous interior projects and kept you up on the latest sales and promotions. Here's a look back at June 2017.
A Find a Job in Auto Upholstery
We scoured the internet for the latest employment opportunities in the craft of auto upholstery and posted them on our jobs page.
When Auto Trimmers Wore Ties to Work
Until the early 1900s, trimmers dressed a lot classier — wearing button-down dress shirts, ties, vests and even top hats to work.
Albright's Supply Now Sells Space Pens
Check out this month's Albright's Supply newsletter for the latest news, sales and products — including Fisher Space Pens!
Leder Art is Trimming Side Mirrors!
Leder Art is flipping cars inside out by trimming their exteriors in leather, suede and Alcantara — and it looks gorgeous!
Did You Know Electron Makes Custom Tops?
Keep your eyes peeled for two mailers from Electron Top: A flier highlighting their custom top service and the latest issue of "Keep in Touch!"
Introducing the Umbrella Convertible Top
A Chinese man was recently spotted cruising down the highway in a Mercedes-Benz with the top down in the pouring rain.
Celebrate Collector Car Appreciation Day!
Collector Car Appreciation Day is only a month away, and with it will come a lot of local car shows and related events.
New Clothing Line Inspired by Auto Upholstery
The "Buckle and Shift" fashion line is made from leftover and salvaged hot rod fabric and accessories, including emblems and seat belts.
Watch Carlex Design Customize a Mercedes G500
Carlex Design recently transformed a Mercedes-Benz G-Class into a head-turning, mind-melting street machine.
Worst Use of a Convertible Car — Ever
A British man was recently spotted driving with his top down and a full-size couch turned upside down and draped over the cabin.
Get Wild With Haartz at Droptops & Dirt!
The annual gathering in Malibu, California, combines off-road and convertible vehicles, which attendees can drive.
Growing Up in Lou's Auto Upholstery
If you're interested in shop profiles, check out this short essay published by Daily Press, a local SoCal newspaper.
Albright's Supply is Giving Away Space Pens
Earlier this month, we told you that Albright's Supply has started selling Space Pens. Now they're giving them away for FREE!
Register for the 2017 SEMA Show Today
The SEMA Show brings together thousands of manufacturers, suppliers and auto professionals to network and check out new products.
Ouch! The Pain of Sewing Through Your Finger
Every auto upholsterer knows the god-awful feeling of running a staple, hog ring or sewing needle through a finger.
Say Goodbye to Your Car's Radio Speakers
Parts supplier Continental is transforming headliners, door panels and other interior trim to work as sounding boards.
Attend the 2017 Summer Leadership Conference
Women in the craft of auto upholstery should consider attending Women in Auto Care's "Summer Leadership Conference" in Nashville.
Hydes Care Guide: Automotive Leather
Hydes Leather, North America's leading source for premium leather, published a care guides on how to keep leather looking new.
Adient Wants to Kill Your Seat Cover Business
The seating manufacturer developed a new seat cover that fits like an OEM product, but is simple enough for any car owner to install.
That's not all! Visit our Facebook, Twitter and Instagram pages to see what other trimmers are up to and join in the latest industry discussions.